Join us for our 'Four Waterfalls Walk' experience day on the edge of the Brecon Beacons national park. Here you'll find a fabulous walk that is accessible for all abilities and ages throughout the year.
We are now taking bookings for our 2022/23 Four Waterfalls Walks.
What is a Four Waterfalls Walk Experience Day?
This famous trail of the Four Waterfalls follows the Afon Mellte river visiting the beautiful waterfalls of Sgwd Clun Gwyn, Sgwyd Isaf Clun Gwyn. It is here that the walk culminates at the famous Sgwyd Yr Eira waterfall on the Afon Hepste river. Here offers the opportunity to walk behind its cascading curtain and take some memorable photos.
The waterfall country is close and accessible to Cardiff and Swansea. These are great places that show cases what South Wales has to offer. As its name suggests our Waterfalls Walk discovers the four hidden waterfalls over a 7km walk. These are all unique and different in their roaring and spectacular way.
So come with us for an exciting adventure on our Four Waterfalls Walk experience days from only £65pp.
How much is a Four Waterfalls Walking Adventure Day?
Our Full waterfall walking adventure experience day is only £65pp.
We also offer some great waterfall walking deals for schools & youth groups.
Four Waterfall Walk prices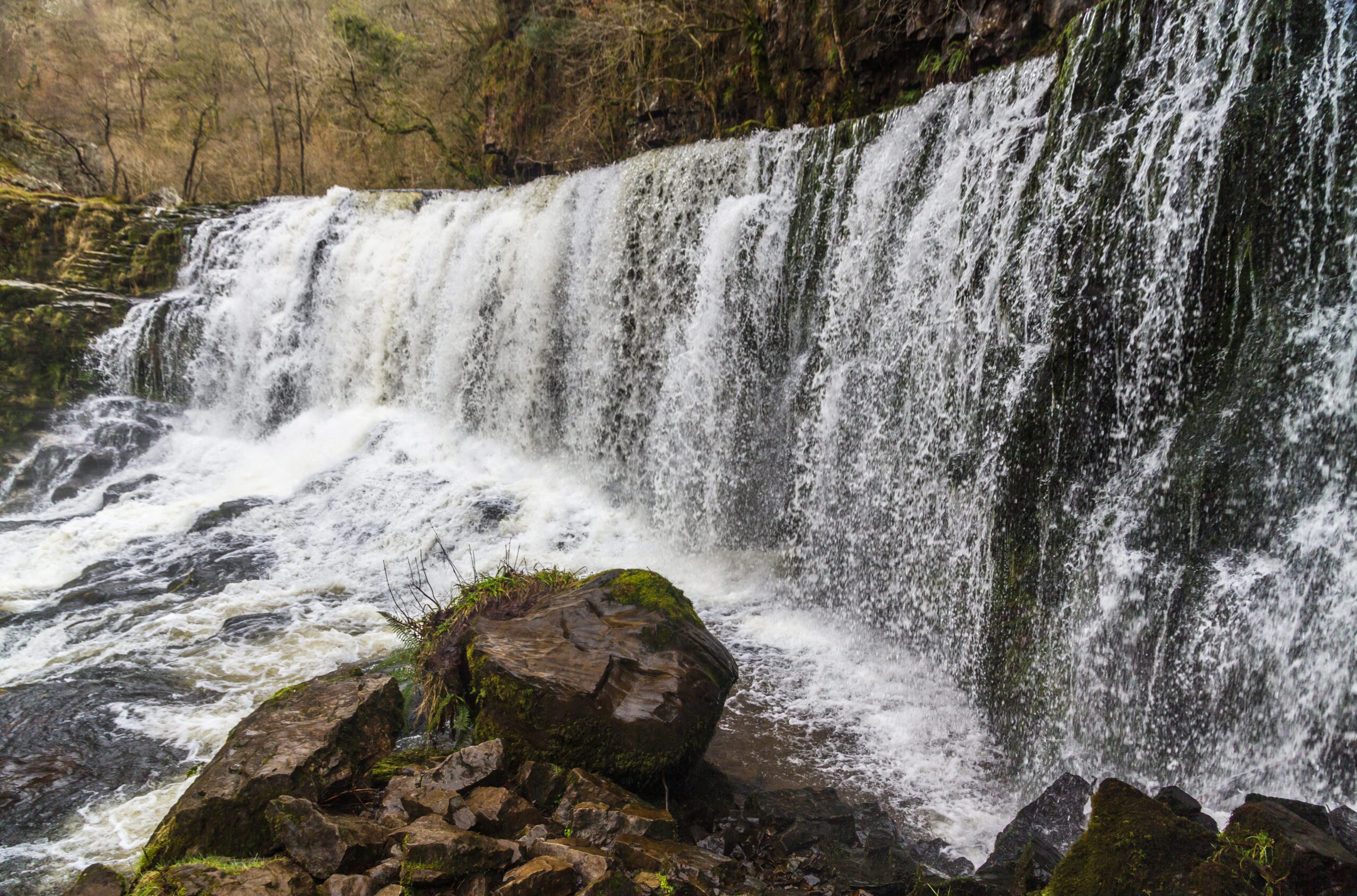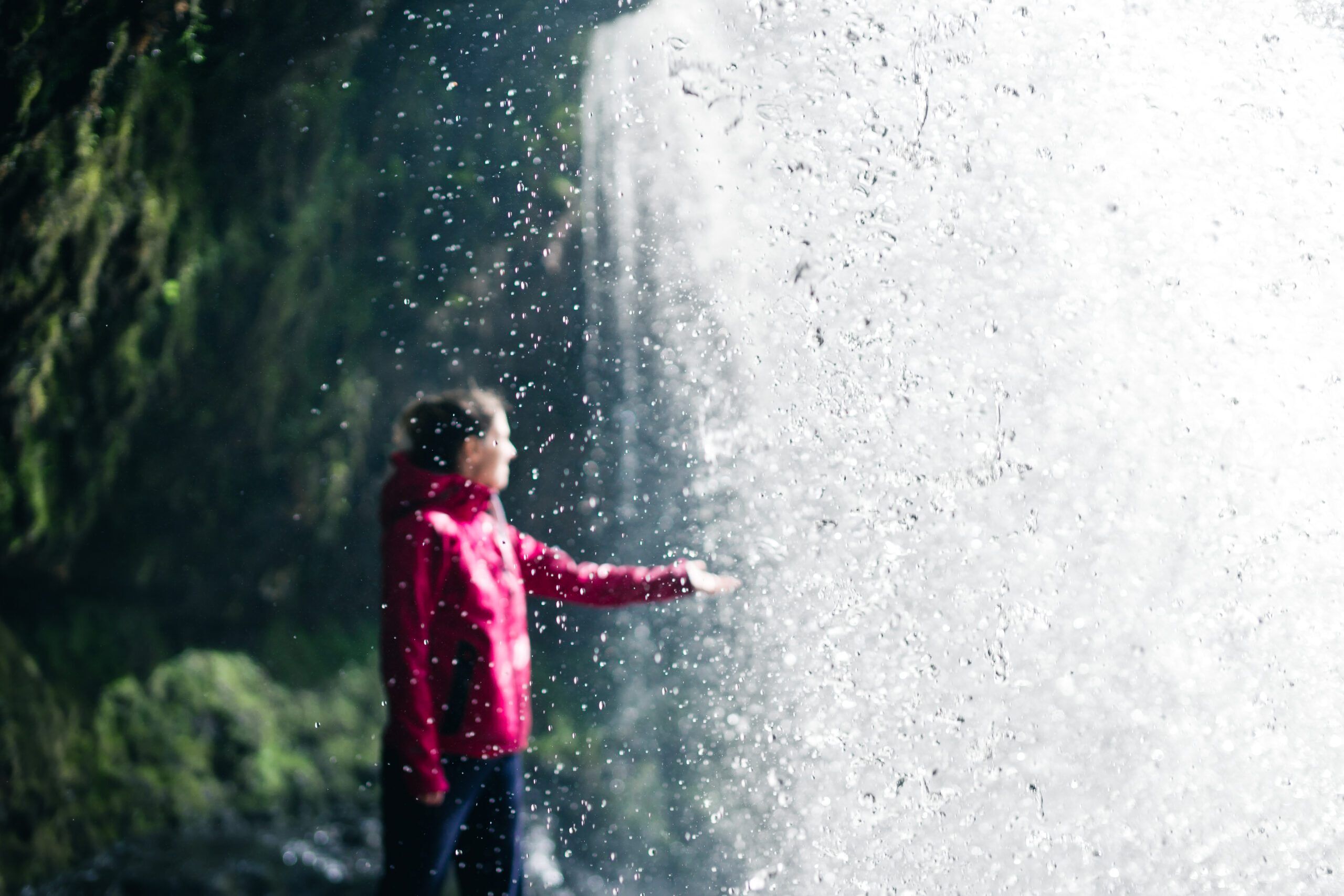 What is a Typical Four Waterfalls walk Schedule?
For our waterfall walk we meet at the car park at Pontneddfechan. Here you'll meet your waterfall guide who has a wealth of knowledge of the local area and geology. With your trusty guide, we'll make our way along a 7km circuitous route visiting the different waterfall areas. This trail culminates at the famous Sgwd Yr Eira. Here you'll have the opportunity to walk behind its raging curtain of water and a great opportunity for some fantastic photos of your day.
Our Four Waterfalls walk experience is 3.5-4.5hrs.
After a safety and initial briefing, you'll set off on an epic outdoor experience in the Brecon Beacons Waterfall Area.
The Four Waterfalls walk experience day starts at 10.30am finishes back at the car park around 2pm.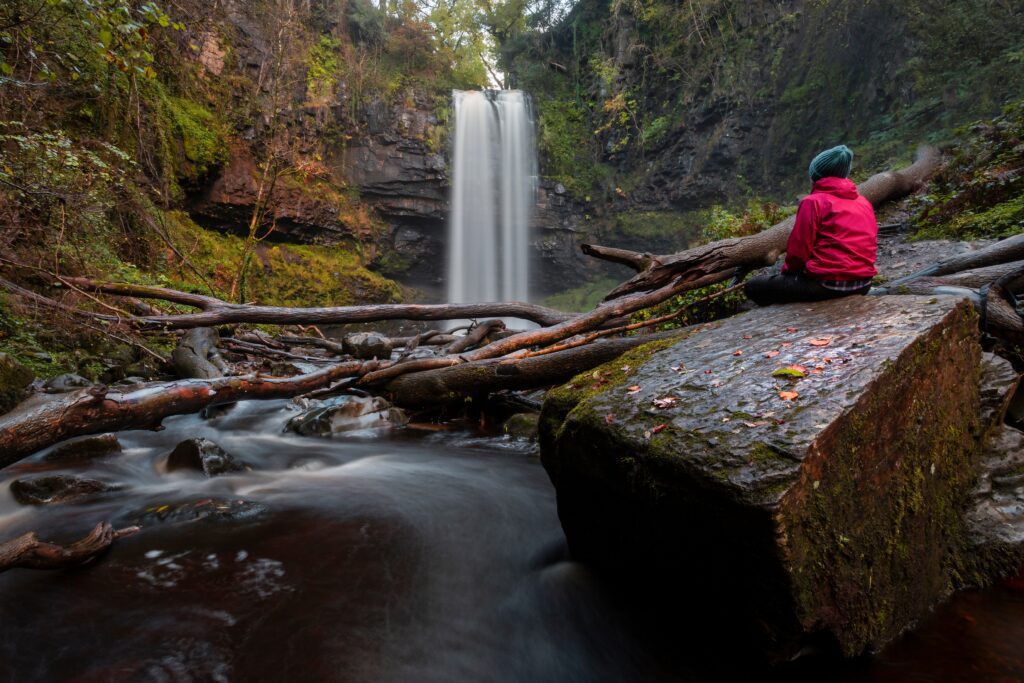 What can I expect to see on The Four Waterfalls Walk?
Along this famous Waterfall walk you'll discover the breathtaking and hidden Waterfall Country of the Brecon Beacons. Our trail follows a beautiful hidden river trail overlooking a steep flowing river canyon. Along the trail your guide will teach you all about the local area. Here you'll learn how the waterfalls were formed and how they continue to shape the land.
On this walk through the forest we'll first come upon the path down to Sgwd Clun Gwyn. Here the path steepens but is reassuringly very short. Thundering above you'll see the Afon Mellte, flowing down, cascading and completely disappearing over the mighty cliff top edge.
As we return to the trail we take a path leading to the next 2 waterfalls where we'll descend steep mud steps to the bottom of the black rocked canyon bottom. Here your guide will point out rock pools and formations. These have been formed and carved by the power of water over millennia.  From here we'll first see Sgwd Isaf Clun Gwyn, waterfall No2 and a horse shoe of cascading river water. This is the smallest of the 4 waterfalls but also regarded as the most charming.
We then continue along the trail to waterfall No3, the mighty Sgwd Yr Pannwr and the highest of the four waterfalls. After scrambling over a few rocks we look up to see this awe inspiring and huge waterfall. With the Afon Mellte river falling to the canyon floor, it never fails to impress, no matter how many times you visit.
Continuing along a small trail to our 4th final waterfall and certainly the most famous, Sgyd Yr Eira. This is the largest of the waterfalls and offers a great chance to walk behind its raging white cascade. Here you'll have the opportunity to take some great selfies.!! Then after a short but steep walk out  to the trail, we'll return to the country lane. It's then back to the car park and the finish to an amazing and unforgettable day.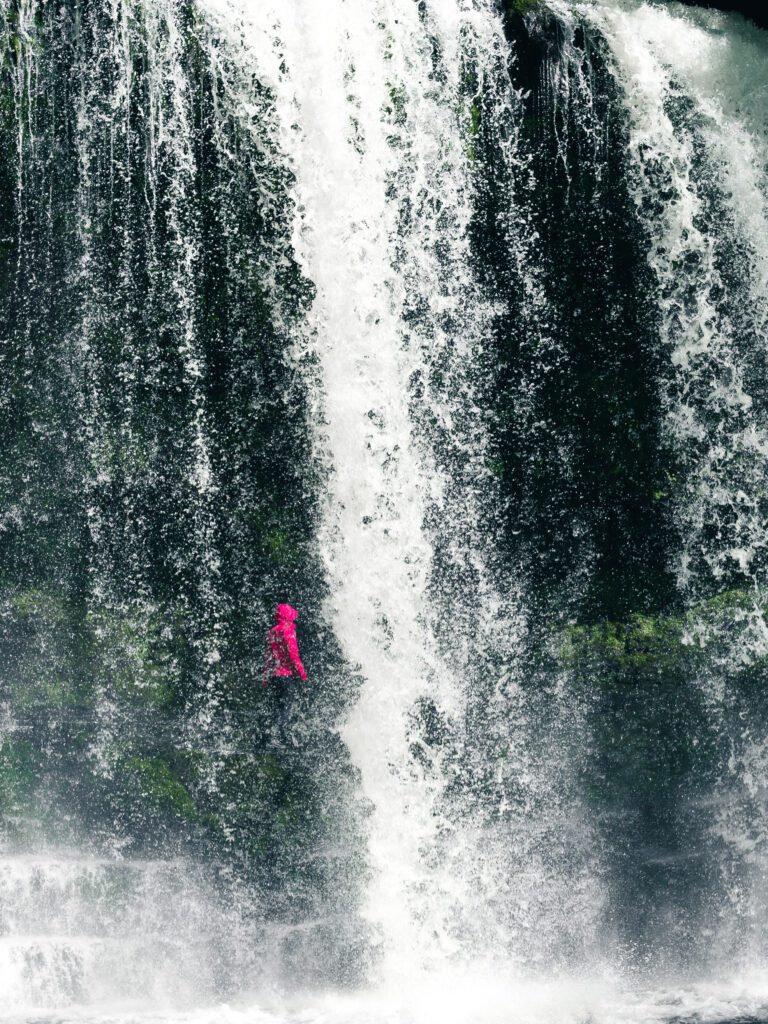 What do I need to bring for my Four Waterfalls walk Experience?
When joining us for our Four Waterfalls walk experience days, we ask you to bring along just some simple personal items. These will make your experience day safer and more comfortable.
We ask you to wear appropriate walking shoes or boots that have a good tread. Such footwear should be suitable for paths that can be muddy at certain times of the year.
Waterproof jacket and trousers are also needed for those wet days when the waterfalls are in their best condition.
All you then need to bring is 100% attitude for our ultimate Four Waterfalls walk experience.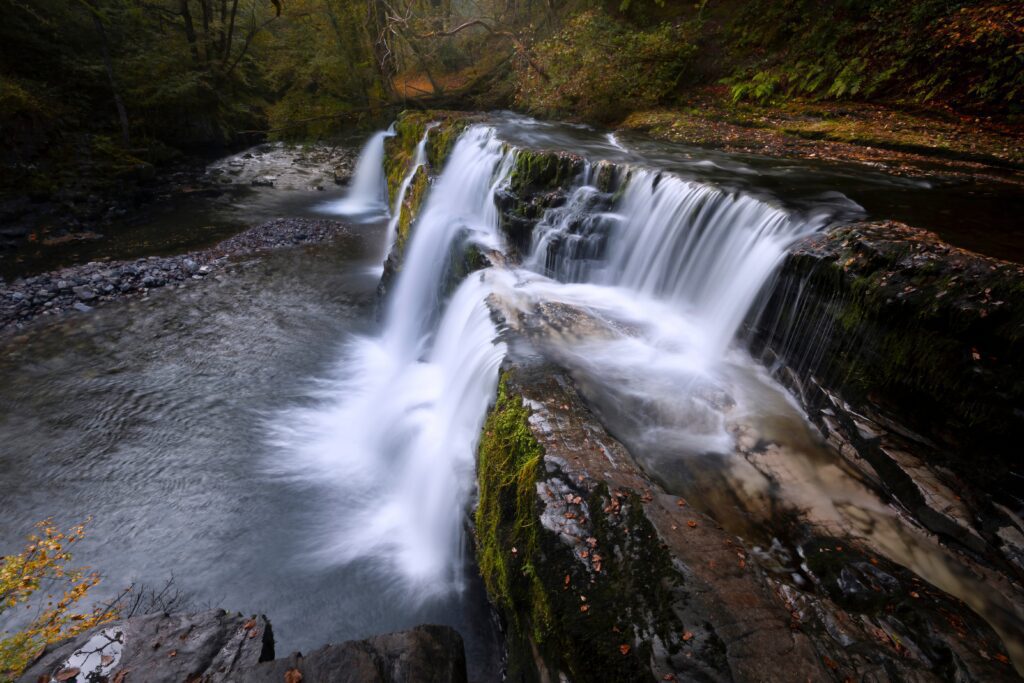 Is Four Waterfalls walk Suitable For Families?
Our Four Waterfalls walk is such a unique experience and one of our most popular activities for groups and families visiting Wales. Walking behind the famous Sgwd Yr Eira Waterfall will definitely be a lasting memory. It is here that hopefully you'll capture some amazing photographs of family and friends.
Its a fantastic get away experience for all ages and abilities. We suggest that it is suitable for children from 7yrs+.
However we must point out that this waterfall walk is not accessible to wheel chairs and push chairs etc.
Why not call us now for details of our Four Waterfalls walk experience day.
Call us on 01656 782300 or why not simply click on our quick enquiry form and we'll get back to you asap.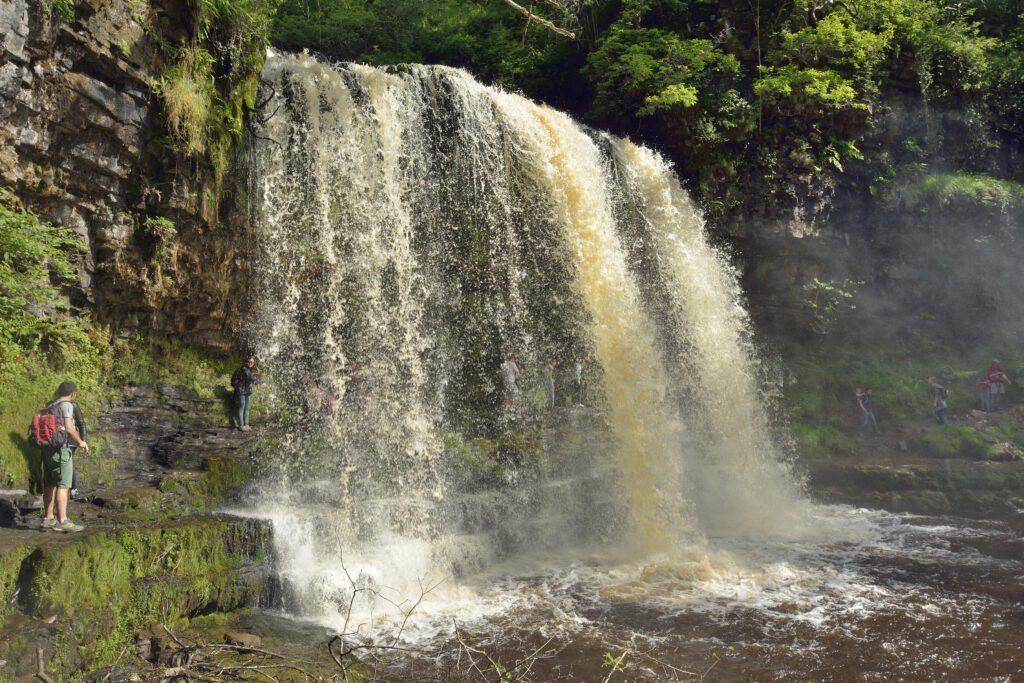 Who Is Waterfall Walking in Wales Suitable For?
The Four Waterfalls walk in the Brecon Beacons is a fantastic physically demanding activity. This is definitely one of our most popular activity days.
Its certainly ideal for groups and individuals and is very popular with school and youth groups looking for a waterfall walking experience here in Wales. We deem our waterfall wales experience suitable for children from 7 years +.
Fitness levels required
30

%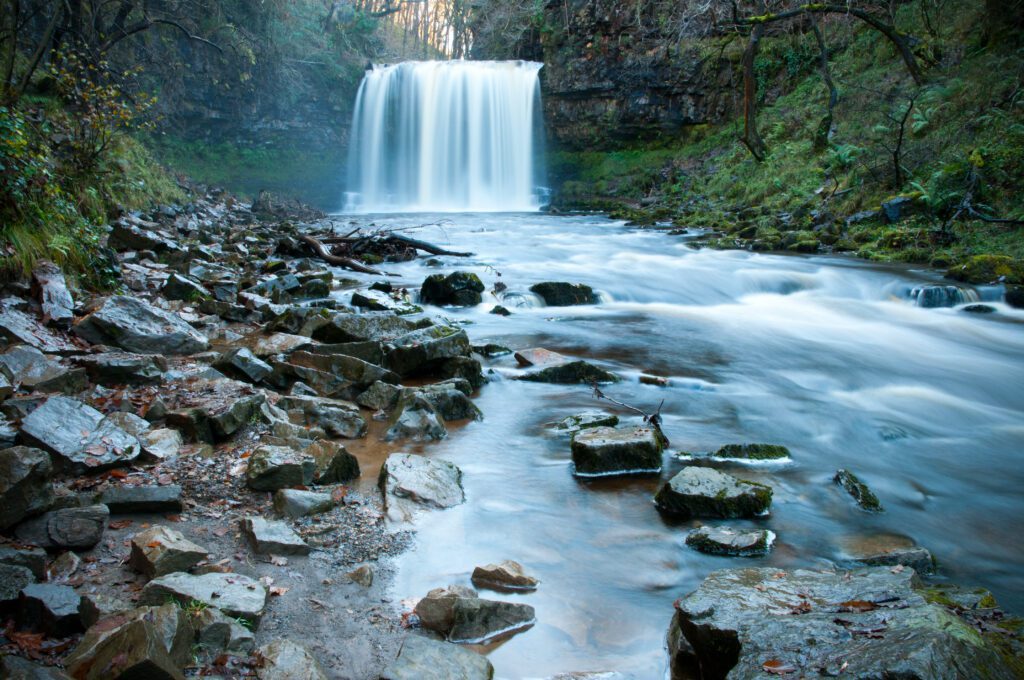 Just to say a big thank you to Adventures Wales an in particular Edward (Ed) who was such a terrific guide on our Four Waterfalls walk. He was ever so knowledgeable on the area and great fun. A fab day had by all the family and we'll definitely come back.
Waterfall Walking in Brecon Beacons
The Four Waterfalls Walk located on the edge of the National Park. The ideal location for a waterfall walking adventure near Cardiff.
Experienced Local Guides
All our Four Waterfalls Walk guides have a wealth of local knowledge and understanding of the local history and geology.  Adventures Wales centre is also an approved AALA licensed activity centre. Your safety is assured on our Four Waterfalls adventure days.