Throughout the year we have great conditions for our Canyoning Wales experience days. These conditions include regular high water levels. This provides some of the most exciting conditions in our local river canyons and gorges here on the edge of the Brecon Beacons.
What is Canyoning?
Canyoning is a very similar activity to Gorge Walking. It often involves travelling down river through the use of ropes to descend a running river canyon.
Here in South Wales, close to both Cardiff city centre and Swansea, we have some of the best and exciting canyoning activities available anywhere in the UK. The canyoning activities are without doubt one of our most demanding but exciting water activities in the Brecon Beacons National Park.
Canyoning in Brecon Beacons with Adventures Wales.
What does a Canyoning Wales Day involve?
A typical Canyoning experience includes:
Traversing rock walls
Jumping across boulders
Climbing cascading waterfalls
Exploring dark caves
Swinging over raging torrents
Big waterfall jumps
Experienced & Qualified Canyoning guides
What Can You Expect Canyoning in Brecon Beacons with Adventures Wales?
Full days activity here in Wales from 10am-3.3pm
Groups will arrive at our centre for 10am registration and meet your instructors.
Our centre is only 20mins from Wales capital Cardiff, offering a perfect gateway to your canyoning adventure in the Brecon Beacons from Cardiff City Centre.
Your instructors will allocate all the equipment, helmets & wetsuits etc. You'll need to bring only a pair of trainers or boots suitable to wear in the water.
Travel to the Brecon Beacons canyoning venue on the edge of the National Park. Transport is not provided unless otherwise arranged with us.
The Canyoning Wales adventure day finishes at the venue approx 3pm.
Change out of wetsuits and depart from Pontneddfechan.
All our instructors are qualified Swift Water Rescue instructors.
Groups on a canyoning Wales experience day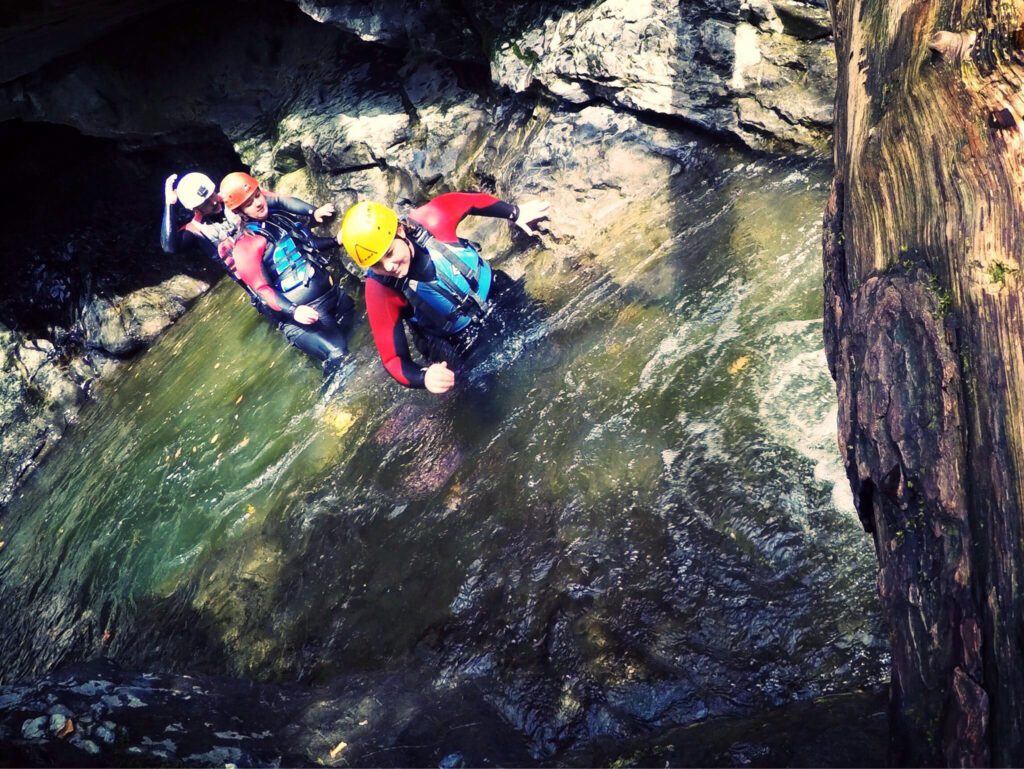 What do I need to bring for a Canyoning Day in Wales?
A canyoning day is a superb fun activity, and being well prepared only increases this experience. For this reason our instructors will take you on a hidden remote route that will be tailored for your personal ability.
When joining us for any of our canyoning Wales experience days, we ask you to bring along just some simple personal items.
In addition we ask you to try to have your swimwear already on when you arrive for your canyoning experience day. This makes it easier for you to change into your wetsuit. You will need also to bring along a towel for drying off after.
In addition, we ask all participants to bring a pair of shorts that you can wear over the outside of your wetsuit. Wearing the shorts allows us to do some amazing bum slides and float downs which are not be missed as part of your canyoning in Brecon Beacons day. Then for your feet we advise either trainers or walking boots to wear in the water.
All you then need to bring is 100% attitude for our ultimate canyoning in Wales experience.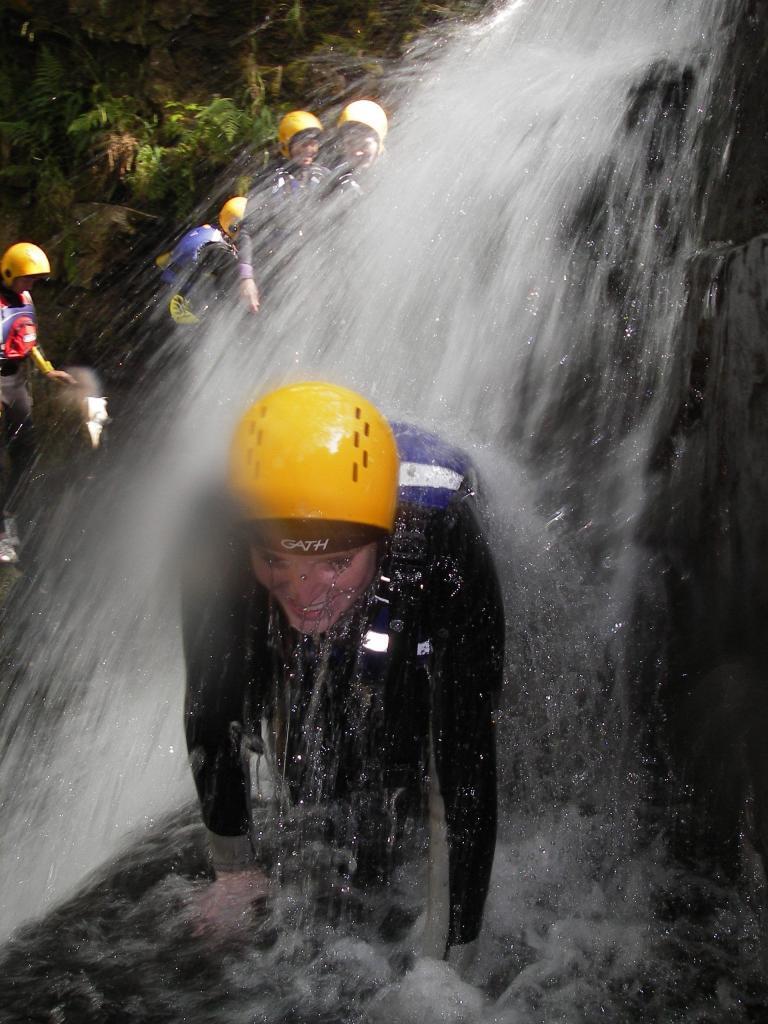 Canyoning Wales Experience for Groups?
The canyoning in Wales is such a great experience. This is definitely our most popular activityfor our Stag Groups and Stag Weekend Packages. Its perfect for groups looking for canyoning Cardiff packages or indeed groups staying at Swansea. The centre at Adventures Wales is only 20mins drive from the centre of Cardiff, making a Cardiff experience day an ideal get away out of the city.
Canyoning in Wales days are certainly an unconventional activity to do on a stag weekend. Such an unique experience in the Brecon Beacons offers a great bonding experience among your group and a fabulous talking point for the bar later.
This will definitely be one that will be talked about for a long while after with friends and wedding guests.
Come with us on a Brecon Beacons canyoning day in the national park, an area of outstanding waterfall beauty for the most talked about adventurous day.
So why not call us now for details of all our canyoning experience days for your group adventure or those thinking of a wales stag weekend package.
Call us on 01656 782300 or why not simply click on our quick enquiry form and we'll get back to you asap.
Groups on a canyoning Wales experience day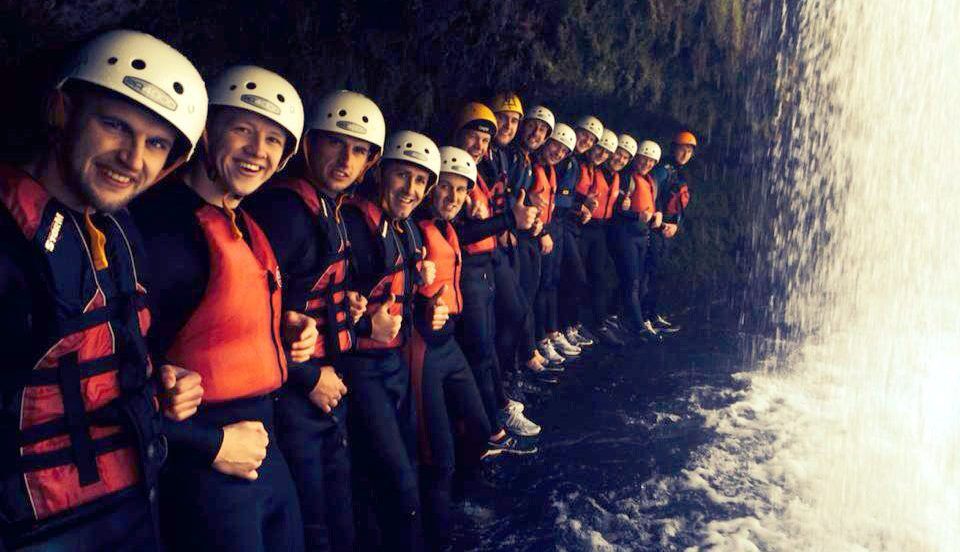 Who Is a Canyoning in Wales Day Suitable For?
Whether you just want to sit out and just watch others do the 'big jumps' or looking to push your limit. For all our experience days, we ask that participants have the ability to swim 50m.  In addition we run our canyoning sessions for adults and children from 10 years up of all abilities.
Our instructors will always run the activity day to suit the level of the individual and the group.
Canyoning in Brecon Beacons is a fantastic physically demanding activity and is definitely one of our most popular activity days. Its ideal for groups and individuals while being extremely popular with school and youth groups looking for a great day out here in Wales. We deem our canyoning experience days suitable for children from 9 year and above.
A Great Team or Group Day Out
These awesome canyoning experiences are becoming popular also as for company team building activities. Such activities offer a great opportunity for group bonding and for overcoming personal challenges.
During your day we'll teach you all the techniques that are needed to move your way along a river rapids journey. These include how to negotiate boilers, stoppers, plunge pools and caves. So without doubt our canyoning in Brecon Beacons are one of our most popular activities for stag groups. This popularity is due to the location being only 45mins away from Cardiff  city centre.
We offer full canyoning wales activity days with experienced and qualified instructors. £69pp full day activity. Group discounts can be offered.
How wet will you get?
100

%
Fitness levels required
40

%
Group briefing on canyoning techniques with Adventures Wales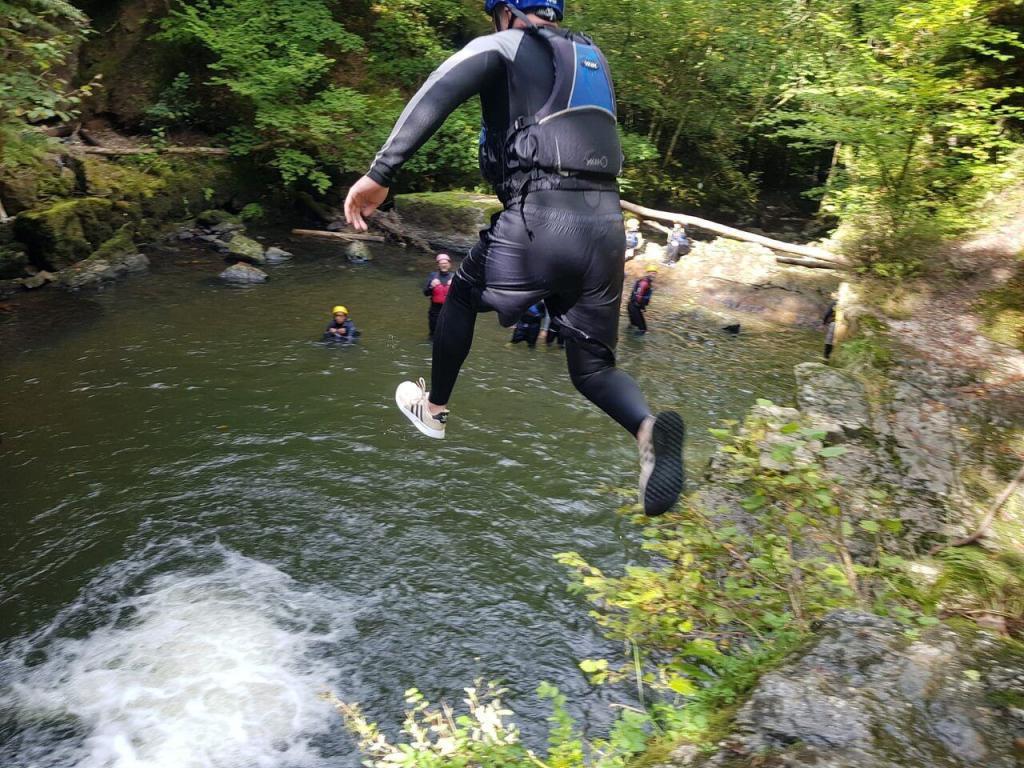 Just a quick note to say that all the guys had an awesome experience canyoning on Saturday. Alex the instructor made the day and please pass on our thanks. Fab day as promised and we'll definitely be back for more canyoning adventures..
Canyoning in Brecon Beacons
Located on the edge of the Brecon Beacons national park starting at Pontneddfechan, an area known as Wales's waterfall country. This is one of our most popular for groups staying in Swansea or even Cardiff canyoning packages, being only 45mins drive from the city centre.
Experienced Instructors
All our canyoning instructors are fully experienced and qualified holding Swift Water Rescue awards. You are safe knowing that Adventures Wales is an approved AALS licensed activities centre. Throughout your canyoning wales experience day your safety is assured.
Full Kit Provided
Our Canyoning Wales experience days are run throughout the year. Summer offers warm water but Autumn & Winter offer exciting river conditions with raging water levels. We use full thick 5mm winter wetsuits to keep you toasty throughout the 12 months of the year.
Mid-week Canyoning discounts
Adventures Wales offers a great mid week rate for any of our canyoning wales experience days from only £45pp. So why not call us now to book an amazing days experience in Brecon Beacons that we guarantee you and your friends will never forget