Surfing Lessons in Porthcawl
Our surf school sessions are taught by passionate and qualified local surfing instructors. This takes place at one of our beautiful local beaches such as Rest Bay in Porthcawl. Join us for a Surfing Lesson Porthcawl experience and catch some waves!
Why Learn to Surf with Adventures Wales Surf School?
Providing Surfing Lessons in Porthcawl, we are one of the few surfing schools in Wales who are also a fully Licensed AALA Activity Centre. We are also a licensed provider for Rest Bay & Coney Beach with the assurance of  ISA qualified professional surfing lesson instructors.
Why not book one of our porthcawl surfing lessons here in Wales?
Great discounts for kids surfing lessons, parties and family groups. Use our online Booking Button below or Call 01656 782300
Surfing Lessons and Surf Hire prices
How much does a Surfing Lesson cost?
Surf Lessons in Porthcawl from only £40.00pp
Full Day surfing lesson or 1/2day surfing combined with ocean kayaking £69.00pp.
We supply all wetsuits and surf boards, so just bring along a bathing suit, towel and of course yourself!
We stock a huge range of surfboards and wetsuits available to rent. See below for details of our surfboard and wetsuit hire rates.
What's involved in a Porthcawl Surfing Lesson?
Surfing lessons at Porthcawl with Adventures Wales surf school. We provide the best induction to what can be a difficult sport. As a measure of our surfing instructors success, the majority of people taking surfing lessons here in Porthcawl achieve stand up surfing in their first day. Surfing Lessons can be as formal or informal as you wish within our safety rules. Great activities for schools, youth groups and stag and hen weekends.
What is included in a Surfing Lesson?
Our Porthcawl Surfing lessons include a surfboard, long, wide, buoyant and made of soft foam, a wetsuit and surf safety tuition. You can then either have a block of lessons to start or have a number of lessons. These are popular over a surfing holiday or spread out over the summer to pick up new skills and get advice on fault correction.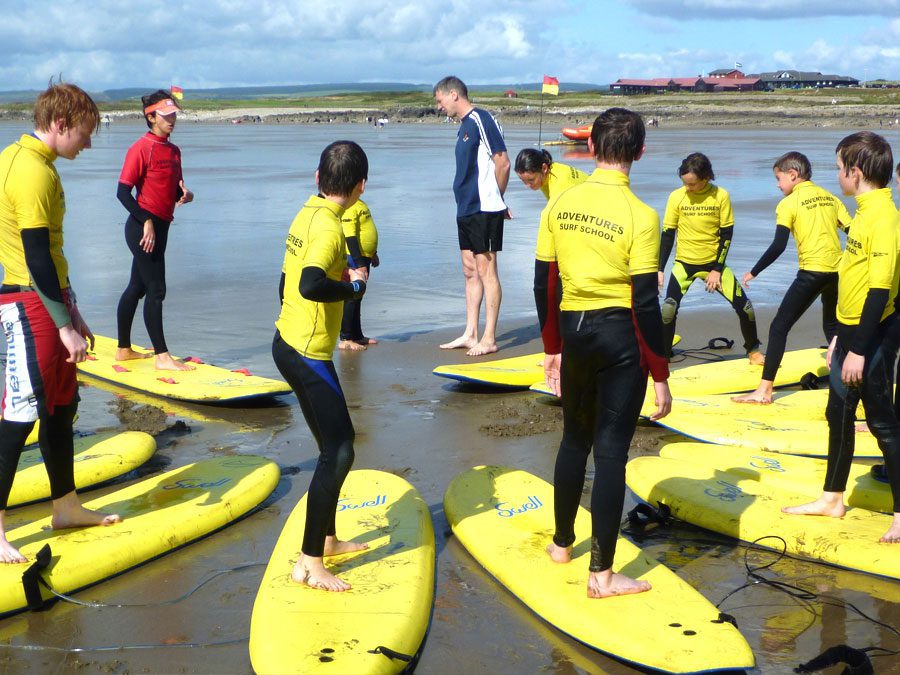 Where are our surfing lessons?
Whether you're an individual, school or group we offer surfing lessons here in South Wales at Porthcawl. Perhaps at Rest Bay or Sandy Bay with our experienced and qualified surfing and water safety instructors. We run our lessons and classes across many of our local beaches within Porthcawl. This allows us to find the best wave conditions for your surf lesson in Porthcawl.
Our lessons are from only £40pp including all equipment and instruction. We also provide surf lessons for schools and groups across many South Wales beaches.
Why is Porthcawl One Of The Best Locations For Surfing Lessons in Wales?
Porthcawl's beaches, Coney and Rest Bay offer some of the best beaches for beginner surf lessons and surfing holidays in South Wales. Often referred to as the Wales Gold Coast, only 20mins from Cardiff, and just off the M4, Porthcawl is a perfect location for school surfing lessons and beginner lessons here in Wales. At Adventures Wales Activity Centre we offer a range of surfing lessons and surfboard hire to individuals, groups and schools looking for beach surf lessons in Wales.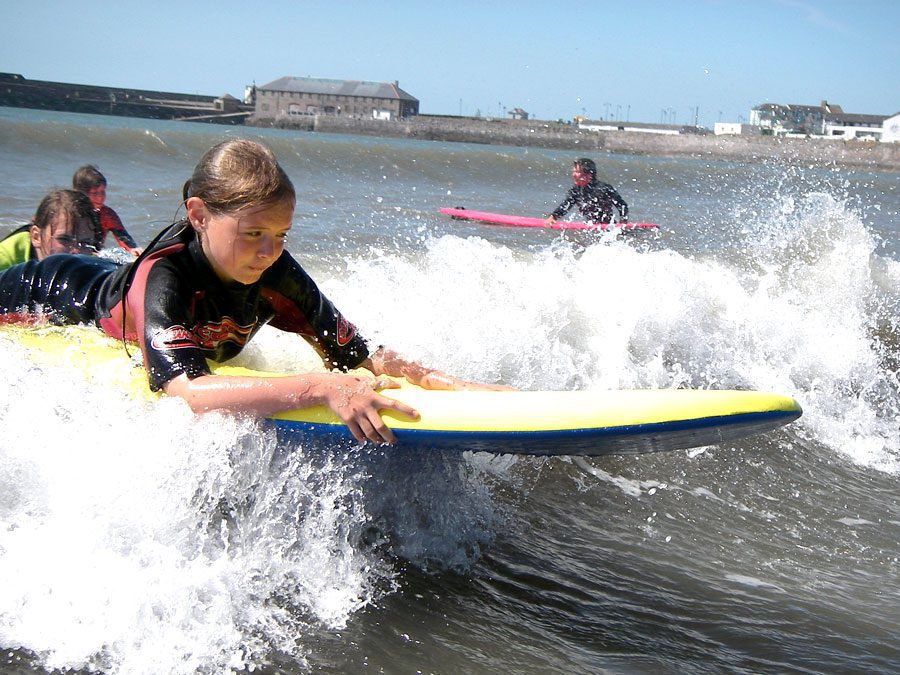 Our Porthcawl surfing lesson instructors
All our surfing instructors are qualified Professional Beach Lifeguards and ISA Surfing Coaches. As a local Porthcawl Surf School we are happy to give unbiased advice. This includes advice on the correct surfboard, wetsuit or on the local conditions here in Porthcawl.
So whether you're a parent looking for surfing lessons in Porthcawl or a child looking to learn in a safe and closely supervised environment. Perhaps your the super keen teenage boy or girl who wants to become the next surfing pro or the professional person who's always fancied taking up surfing – Come with us and give it a go!
How wet will you get?
100

%
Fitness levels required
30

%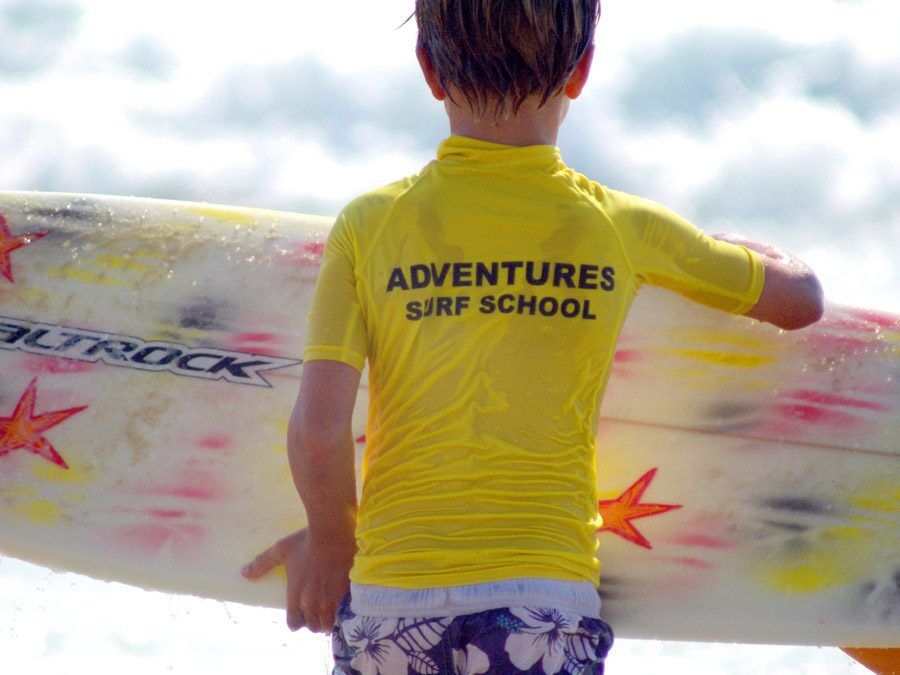 Customer Review: I would just like to give you some customer feedback about the surfing lessons my nephew Joe had on Saturday 11 June. Mark was a great surfing teacher with bags of patience and made Joe's lesson very enjoyable. Using Joe's words: 'I've just got to do that again it was so cool.'

Excellent – Great Fun! Both Nigel and Aaron were excellent instructors for our full day of surfing and paddleboarding, friendly and keen to help us get the best out of the day.

I'd just like to give some feedback about the surf party I booked with you for four kids. I would highly recommend this to any parent as an excellent alternative party idea. The children absolutely loved it, it was fun, safe and supervised by an excellent instructor (Mark) and 3 of 4 kids were standing up by the end of the lesson.
Your Surf Safety is our Priority
You can rest assured in the knowledge that Adventures Wales surf school, Porthcawl is one of the few to also hold an AALA activities license. This is a HSE license for operating adventure activities for under 18yrs.
Qualified Surf School Instructors
Fully qualified Professional Beach Lifeguards and ISA Surfing School Coaches. As a local Porthcawl surf school all our staff are both keen surfers who enjoying passing on their passion. Your safety is assured during your porthcawl surfing lessons.
Surf & Turf
As well as a Porthcawl Surf School, Adventures Wales offers a unique range of other activities. After your surfing lesson at Rest Bay, why not try an afternoon on our muddy assault course or paintballing or archery and many more activities to choose from.
Surf hire available
We offer surf board & wetsuit hire throughout the year. Why not rent a board for the rest of the day after your surfing lesson.