Team Building with Adventures Wales
Here at Adventures Activity Centre in South Wales, we can offer your team a great mix of team building events with a range of outdoor adventure activities on the doorstep of both Cardiff & Swansea.
With a host of facilities here at our centre in Porthcawl and within our local area, we can offer a range of bespoke team building activities and packages for you. Whether your seeking a Team Development Day combining adventurous activities or just looking for a great fun day out to reward your staff, we can arrange something for you.
Our Team Building Activities.
Whether its our onsite or offsite activity days, we can mix and match to suit your teams abilities and requirements for the day. Click on some of our Team Building packages below or call us to discuss your teams needs.
Team Building Events with Adventures Wales
Some of Our Team Building Packages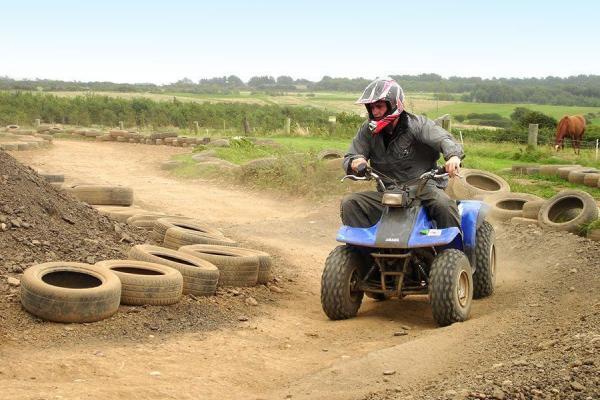 Quad Biking and High Ropes Climbing Day
This is one of our classic team days out that we have been running for company events for many years. Exciting activities coupled with group and personal challenges. This event also allows participants to drop in and out of activities and perhaps watch others from the spectator area with a coffee, avoiding any individual pressure to particiapte.
Our typical day runs 9:30am – 4:30pm
With buffet or packed lunch can be included, based on 10+ persons.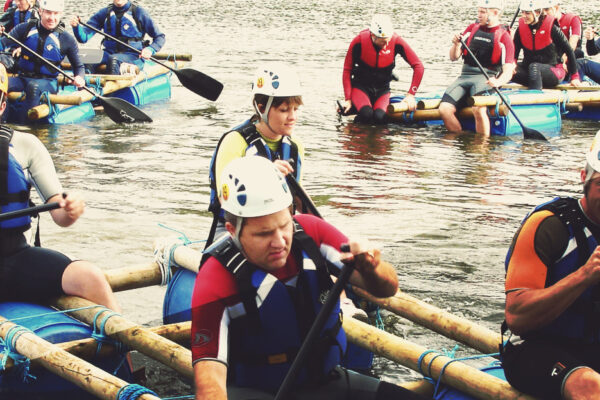 Raft Building and Kayaking Team Building Day
Set on the lake within the grounds of a local Country Park, our Raft Building days offer a very unique experience for team building events. We set our groups the challenge of building, sailing and eventually a fun race between groups around the lake. In addition to the day we also offer the opportunity for an instructional kayak session or our giant XXL inflatable rafts.
A day on the lake runs  9:30am – 4:30pm
With packed lunch option based on 10+ persons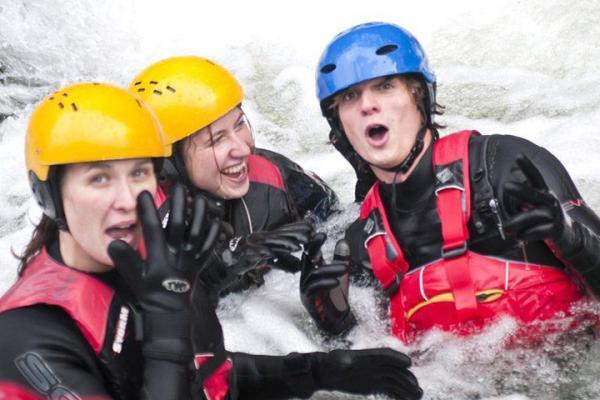 Coasteering Team Building Day
Probably one of our most unique events for company team building days and perhaps suited to the more active of employees. Coasteering is certainly an individual challenge our staff instructors will run the event providing group challenges and opportunity for team development.
Our typical coasteering team building event runs from 9:30am – 3.30pm and take place at either Gower or Pembrokeshire.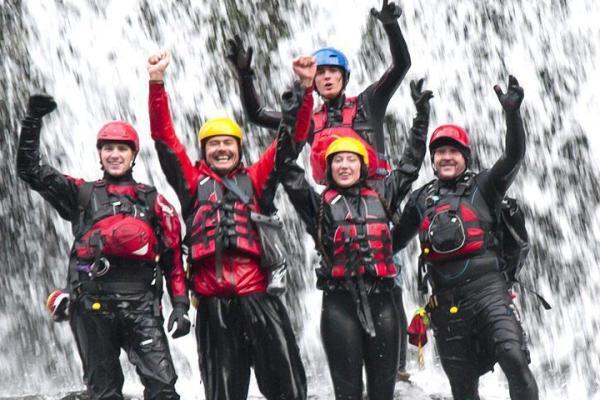 Gorge Walking Team Building Day
Our Gorge Scrambling Team Days are definitely one of our most popular event days  for company days out. Suited to those participants who are moderately active, we offer some great individual and group challenges as we negotiate our way up a running river gorge, all guided by our experienced staff instructors.
Our staff will run the event providing lots of group challenges and team development within an exciting and fun day.
A typical day runs 10am – 3.30pm.
Packed lunch or local pub lunch can be arranged.
Surfing and Giant XXL Raft Day
This is our very unique Beach Day for teams of adults. Learning to surf can be a great individual activity perhaps as a reward or just a fun day out with colleagues. Chances are you've never tried a Giant XXL inflatable raft. Its incredible fun as your group tries to negotiate the surf and hopefully all work together to catch a wave back to the beach.
Our beach days run 10am-4pm
Packed lunches or perhaps the local beach restaurant can be arranged.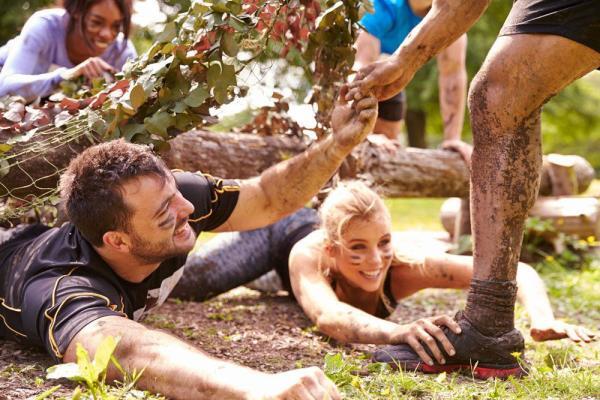 Muddy Assault Course & Archery Team Building Day
New for 2020, our Muddy Assault Course is proving very popular. Bring along a spare set of clothes, get muddy and have a great laugh with your colleagues. There's plenty of team challenges here as your groups helps each over the shuffle bars or the military walls and muddy pits.
Our Archery session under the instruction of our qualified staff is then a great activity to relax a little and challenge your colleagues to a game of fun.
A day here at our centre runs 9.30am – 4pm and can also include some team building games added in to the day or perhaps changing the assault course for paintballing or the high ropes course. We have lots of choices to design a bespoke package suitable for your teams abilities.
A Mix of Activities
We are happy to mix n match activities. Call us to discuss if you don't see what you are looking for.
Great Location
Ideally located in Porthcawl, with the beach and mountains on our doorstep.
Lunch Packages
Buffet lunch and packed lunches available on all our activity days.
Group Discounts
Discounts available on larger groups. Call us to discuss.
Loved the Muddy Assault Course session that we combined with the Paintballing. A proper challenge that we were all well up for.