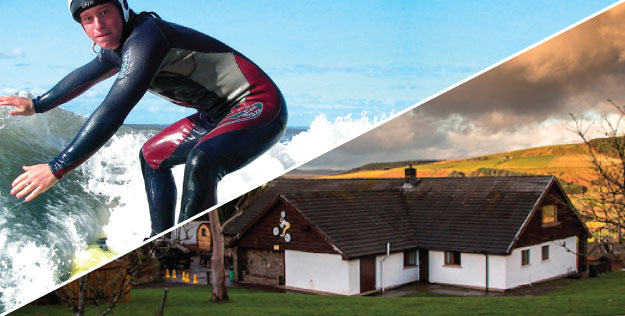 Located in the Neath valley, Swansea, The Lodge is located within one of the most well known mountain bike parks in the UK, Afan Argoed. The Lodge is ideal for mountain bikers, stag groups coming to Swansea and those groups looking for something quieter and relaxing, perhaps looking to organise a BBQ with a few friends over a few beers.
The Lodge offers en-suite bunk style bedrooms as well Dry Rooms, Bar, Cafe, TV in the Bar area, BBQ facilities and outdoor seating areas to enjoy the views of the Afan valley.
We offer a free return transfer to Swansea on Saturday night.
Please contact us to arrange a bespoke duo of activities.

Friday:
After checking in and meeting all the group, its time to relax and enjoy the facilities of The Lodge! Enjoy the home cooked evening meals or BBQ and enjoy the views or chill out in the bar. The adventurous or avid mountain bikers among you may opt for renting a bike and hitting the bike park!
Saturday day: Arrive and register at the centre for 10am and meet your instructors who'll explain the format of the days activities and allocate your kit from our stores. Each activity day will finish approx. 3.30-4pm.
Saturday night: Choose to either relax again at The Lodge or take up our offer of a free return transfer to Swansea for a night out. Contact our team and we can offer some great advice and arrangements for a night out in Swansea.
Sunday Day: Check out is at 11am. Enjoy a second full or half day of activities.

Neath/Swansea

Visit one of the UK's most popular destination for stag weekends.

2 nights

Stay in the Neath Valley, with a return transfer to Swansea Saturday night.

Activities

We have a range of exciting activities for you to choose from.

Price

Packages from £149 per person including a full activity day.