Stag Weekend Packages
At Wales' premier outdoor adventure centre, we offer a range of exciting Stag Do activities for a great value weekend in Cardiff and Swansea.
All
our stag party packages include a choice of activity days, 1 or 2 nights hotel accommodation and a mini-bus transfer to Cardiff for that important night out at a bar, nightclub, casino or restaurant.*
Prices start from just £95 per person.
*Cardiff transfers are only available on 2 night Stag Do packages.
Activities

We have a range of exciting Stag Do activities for you to choose from.

Location

Visit one of the UK's most popular destination for stag weekends.

Nightlife

We offer free transfers to either Cardiff or Swansea.

Accommodation

Choose from a range of accommodation that suits you and your Party.
Check out our Cardiff stag weekend guide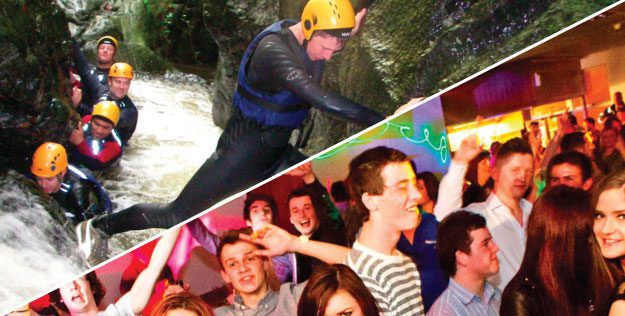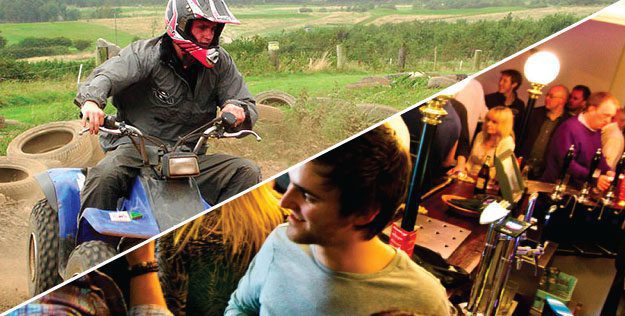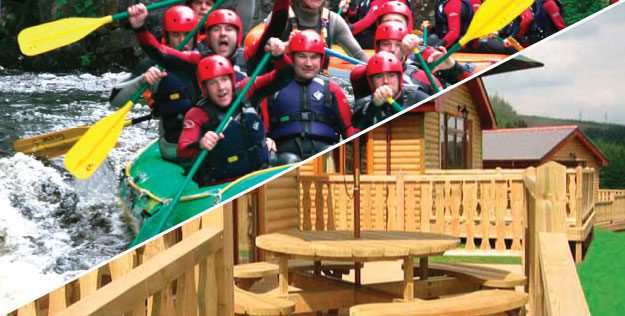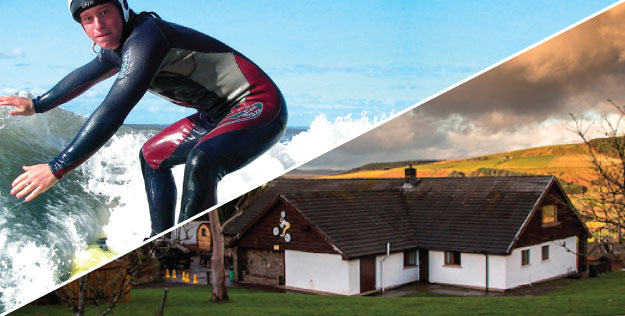 Reasons to choose Cardiff for a Stag Do
Activity Packages for your Stag Do Weekend here in Wales
Try our most popular activity Gorge Scrambling, sometimes called Canyoning or perhaps Clay Shooting for some friendly competition. A coasteering adventure day perhaps, or chill out at our centre on a Quad Biking & High Ropes day. Why not perhaps try your hand at Surfing on our local beaches here in Porthcawl.
Why Choose Wales for a great Stag Weekend?
Both Cardiff and Swansea are fast becoming one of the most popular destinations for Stag Weekends in the UK. Our Outdoor Pursuits Centre here in South Wales is halfway between Cardiff and Swansea, so there's only 20 minute drive to Cardiff or Swansea (or both if you want a night out in each city). Take a look at our Guide to Stag Weekends in Cardiff, giving you up to date information on all the best bars and clubs to visit.

Format of our Stag Do Activity Weekends
Where ever you choose to stay, whether it's a Cardiff City Centre hotel, in a seafront hotel here in Porthcawl or perhaps at our forestry log cabins:
You and your stag party will arrive at our activity centre on Saturday morning for 10am.
Register the Stag Do group at our reception and meet your friendly staff instructors who will explain the format of the days outdoor activities and he/she will then allocate all your activity kit from our stores.
Each activity day will finish approx. 3.30-4pm, in time to get you back to your hotel, ready for a big stag do night out with lots of great stories to regale from the days adventure.
Why Choose Adventures Wales?
All our Stag Do activities and weekend stag breaks here at Adventures Activity Centre in South Wales are not just FUN, a bit more CRAZY and packed with ADVENTURE. Suitable for all ages, abilities, shapes and sizes!
Reason to book your Stag Weekend with us…
There's no hassle OR no hidden extras.
Either book your stag do weekend activities only or the whole Swansea/Cardiff stag package.
We organise all transport to and from your accommodation and your chosen night out, whether it's locally or in Cardiff city centre.
Perfectly located in Porthcawl, close vicinity to the Beach, Rivers for the outdoor pursuits and most importantly Cardiff and Swansea for the Nightclubs
Short ride takes you to your stag night out in Cardiff or Swansea.
We are the outdoor pursuits company that all the other stag do companies outsource to us!
CONTACT US TODAY ON: 01656 782 300