Coasteering in Wales Days
Come with us on our coasteering Wales experience days. These are definately our most exciting outdoor adventure activity for groups and stag weekends. In addition this adventure activity is becoming incredibly popular for groups looking for coasteering in Cardiff or Swansea. Hence, here in Wales we have some of the best venues within the UK such as coasteering at Pembroke and Gower in Swansea.
What is Coasteering?
Well it's everything you weren't supposed to do when you were a kid. So why not take a look at our coasteering Wales video below. Here you'll see the activity taking place at the famous Gower venue in Swansea, showing the very best in Wales.
Put on a wetsuit, buoyancy aid and helmet and you're ready for a coasteering Wales adventure day. We'll then traverse around some of the most spectacular rocky coastlines and coves in Wales. Here you'll enjoy cliff jumping, swimming, scrambling and exploring caves among an amazing backdrop of plunging waves. Such sessions are all run on the Gower or Pembrokeshire coasteering coastlines.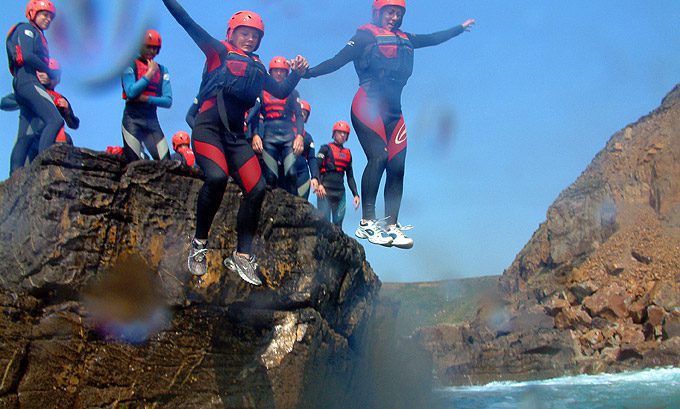 Coasteering Ideas for Groups?
Coasteering is a unique experience and our adventure days are definitely our most popular activities for Stag Groups. Such days are perfect for groups looking for coasteering Cardiff packages or indeed groups staying at Swansea.
Our centre at Adventures Wales is only 20mins drive from the centre of Cardiff. This makes a stay in Cardiff an ideal get away for a coasteering Cardiff adventure.
Coasteering For Stag Groups
Our coasteering in Wales days are certainly an unconventional activity for groups on a stag weekend. Such a unique coasteering experience offers a great bonding experience amongst your group as well as a fabulous talking point for the bar later.
Your coasteering wales experience will definitely be one that will be talked about for a long while after amongst friends and wedding guests.
Come with us coasteering at Gower in Swansea. Or perhaps join us on our experience days at pembrokeshire. These are certainly our most talked about adventure days.
So why not call us now for details of all our wales experience days for your group adventure or those looking for a Cardiff Stag Weekend.
Call us on 01656 782300 or why not simply click on our quick enquiry form and we'll get back to you asap.
What Do I Bring for a Coasteering Wales Day
Whether its coasteering at Pembroskeshire or our Gower coasteering days.  On any of these experience days, we just ask you to bring along just some simple personal items.
We suggest that you have your swimwear already on when you arrive for your coasteering wales experience day. This makes it easier for you to change into your coasteering wetsuit. You will need also to bring along a towel for drying off after.
In addition, we ask all participants to bring a pair of shorts. These are so that you can wear over the outside of your coasteering wetsuit. This allows us to do some amazing bum slides and float downs. These are definately not be missed as part of your coasteering wales day. For your feet we advise either trainers or walking boots to wear in the water.
All you then need to bring is 100% attitude for our ultimate coasteering in Wales experience.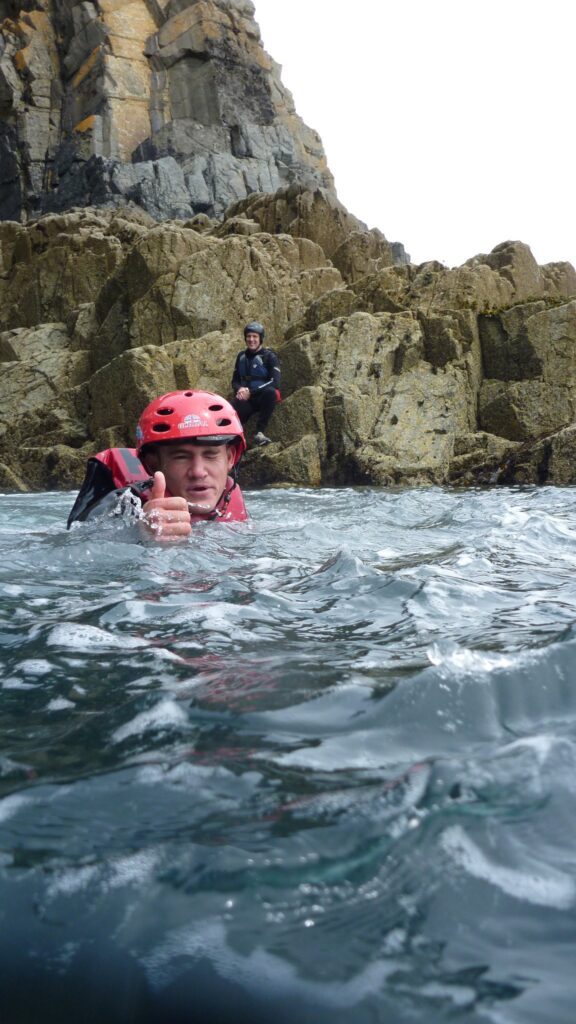 Who Is Coasteering Suitable For?
Whether you just want to watch and sit out the 'big jumps' or looking to push your limit. For all our coasteering wales experience days, we ask that individuals can swim (approx 50m in a pool). These coasteering sessions are available for adults and children from 10 years plus, covering all abilities.
Our coasteering instructors will always adapt the activity days to suit the level of individuals and the group.
Coasteering at Gower or Pembrokeshire is a fantastic physically demanding activity and is definitely one of our most popular activity days. Its certainly ideal for groups and individuals. These are also very popular with school and youth groups looking for a coasteering experience here in Wales. We deem our coasteering wales experience suitable for children from 9 year and above.
Team Building Days & Group Days
Our awesome coasteering experiences are fast becoming popular for company team building days. These offer a unique opportunity for group bonding and overcoming personal challenges.
During your coasteering wales experience day we'll teach you all the techniques that are needed to steer our way along a river journey. We'll negotiate boilers, stoppers, plunge pools and caves. Without doubt our coasteering Gower activities are our most popular for stag activities.  This location is perfect for Cardiff coasteering days being only 45mins away from the city centre.
We offer full coasteering activity days with our experienced and qualified instructors. £69pp full day activity. Group discounts offered.
How wet will you get?
100

%
Fitness levels required
40

%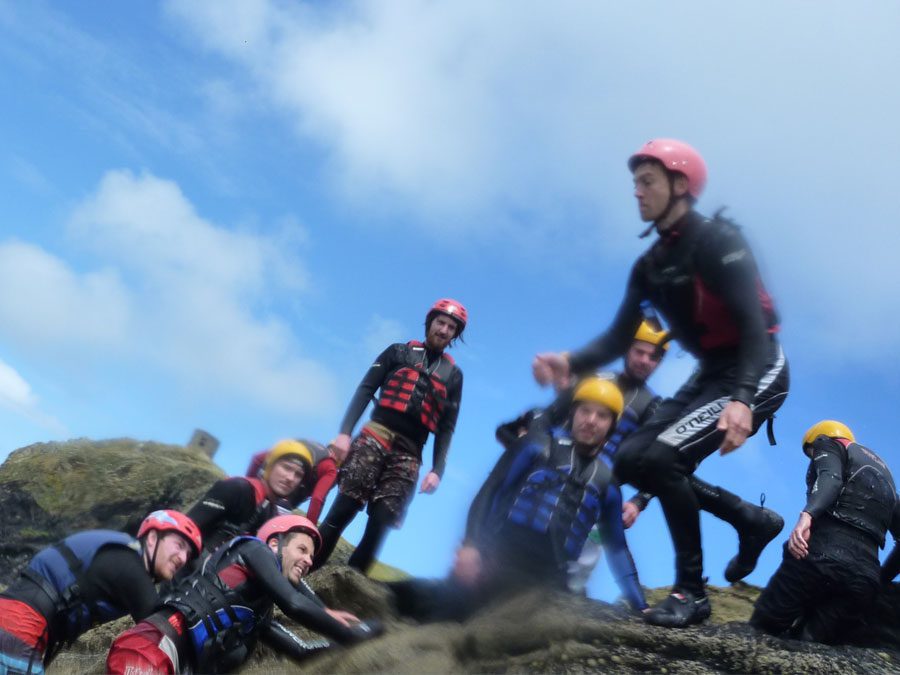 Where can we go Coasteering in Wales?
Our coasteering wales experience days are run at two venues here in South Wales. Here in Wales we offer coasteering at Gower, Swansea and coasteering at Pembrokeshire. However swell, tide and conditions make every activity day different every time.
Gower Coasteering. – Here you'll discover a stunning coastal headland which is a designated 'Area of Outstanding National Beauty'. Gower is close to Swansea and within ease for our Cardiff coasteering activity days. These are becoming popular as part of our stag weekends and hen group packages.
Coasteering Pembrokeshire. – St Davids in Pembrokeshire offers a wild and rugged coastline with huge sea cliffs. This is certainly the most popular and well known coasteering venues in Wales. Here we use areas such as 'Blue Lagoon', St Nons and St Davids.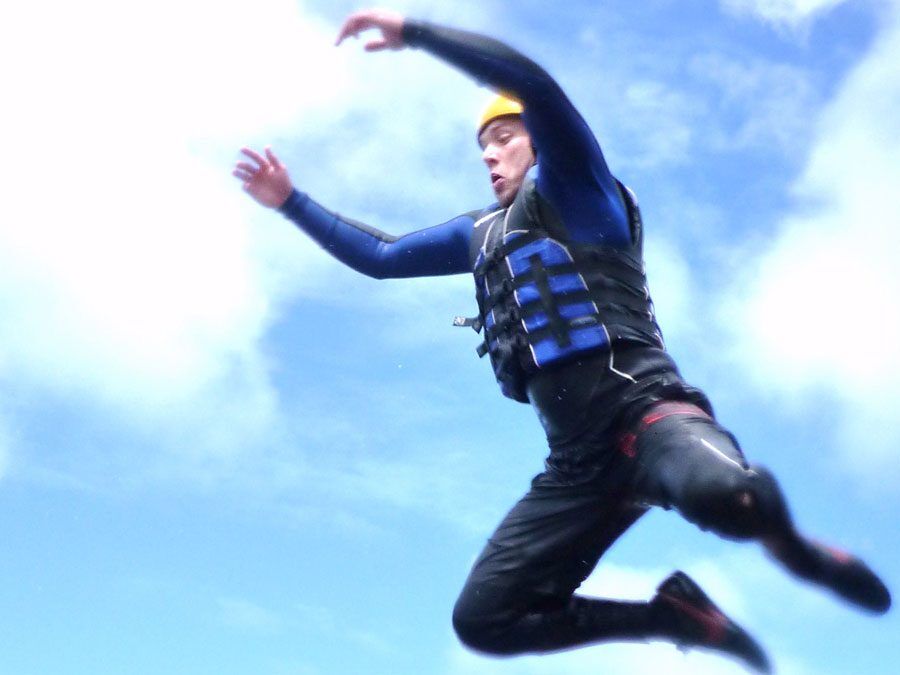 Coasteering Customer Review: Thank you for our coasteering on Saturday at the Gower. Ann was a great guide and although I have only just got feeling back into my toes but we all had a great time and enjoyed every minute!

Just thought we'd drop you a quick email to say how much our group thoroughly enjoyed our day out Coasteering with Adventures Wales. Seeing the porpoise surface so near us at Fall Bay, just yards from our group is something we will all remember. Special moments. Big thank you. Hopefully I'll be back, but this time with the family!
Coasteering Gower
Our coasteering in Gower is located on the Gower peninsula, an area of outstanding beauty since 1956 and a stones throw from Swansea. This is one of our popular coasteering locations. It's perfect for groups staying in Swansea or even Cardiff, being only 45mins drive from the city centre.
Experienced Instructors
All our coasteering staff are fully experienced and qualified instructors, holding professional beach lifeguard awards. You can be safe knowing that Adventures Wales is an approved AALA licensed activity centre. Whether its our Pembrokeshire coasteering  or at the Gower, your safety is assured on all our coasteering Wales adventure days.
Coasteering Pembrokeshire
Our Coasteering Pembrokeshire days are often considered the ultimate challenge. These days take place on the famous pembrokeshire national park. However don't take our word for it. National Geographic rates this coastline as as the 2nd best coastline in the world!
Mid Week Coasteering Days
We offer a great mid week rate for any of our coasteering wales experience days from only £55pp. Call us now to book your coasteering Gower or coasteering Pembrokeshire experiences.
Explore the rugged welsh coastline, sea caves, boilers, hidden coves and big cliff jumps all awaiting you on our incredible coasteering wales experience days
Contact Us