Laser Tag is Full non stop adrenaline action. Our Laser Parties are one of our most popular events for children's birthday parties, adult groups and special events. Only 20 minutes from Cardiff or Swansea here at our combat arena.
Score points when you zap your enemy with a pinpoint laser beam onto the sensors located on the front and back of the combat packs. We use only the best – MP5 submachine guns, the ultimate technology for our laser combat games.
Book your Kids Laser Tag Party at our purpose built undercover arena.
What is Laser Tag?
These are run very similar to paintball scenarios but adapted for a safer and completely bullet free activity aimed at the younger children. Its basically a gun that emits a simple infra red light and a signal tracker that keeps score of the game.
Laser Tag combat is aimed at children of 5 years+ and perfect for Birthday Parties. Much like paint-balling but without the mess and without the bruises.
Our Laser shooting parties have been developed from paint-balling to create a totally safe and exciting environment without the bullets and bruising. Perfect for children and families.
Our Sessions
Half day sessions available throughout the day.
Mornings 10am until 1pm and afternoons 1.30pm to 4pm.
We kit up all our little soldiers in combat overalls.
Children's laser tag party prices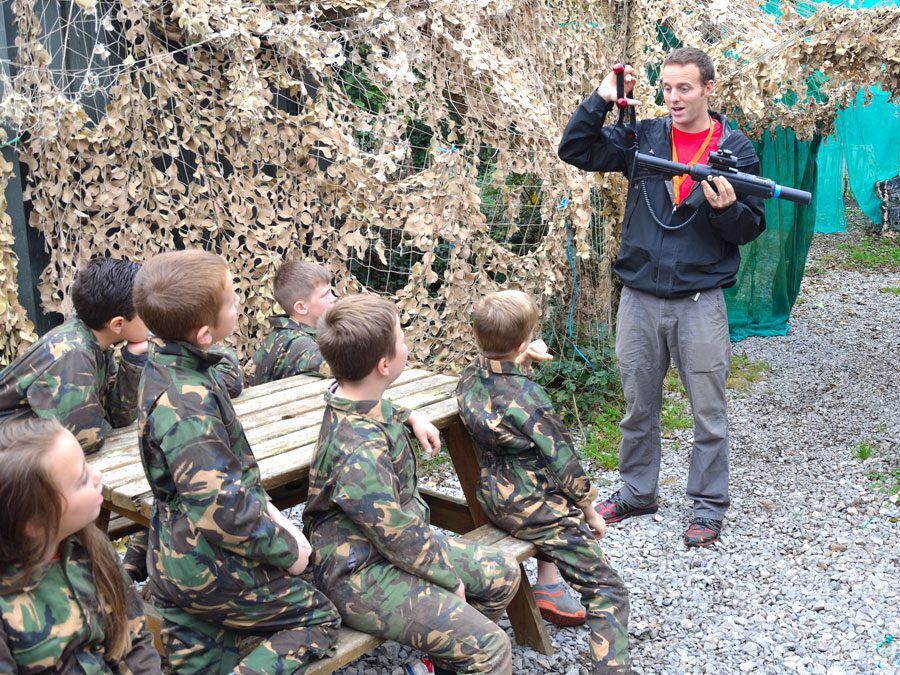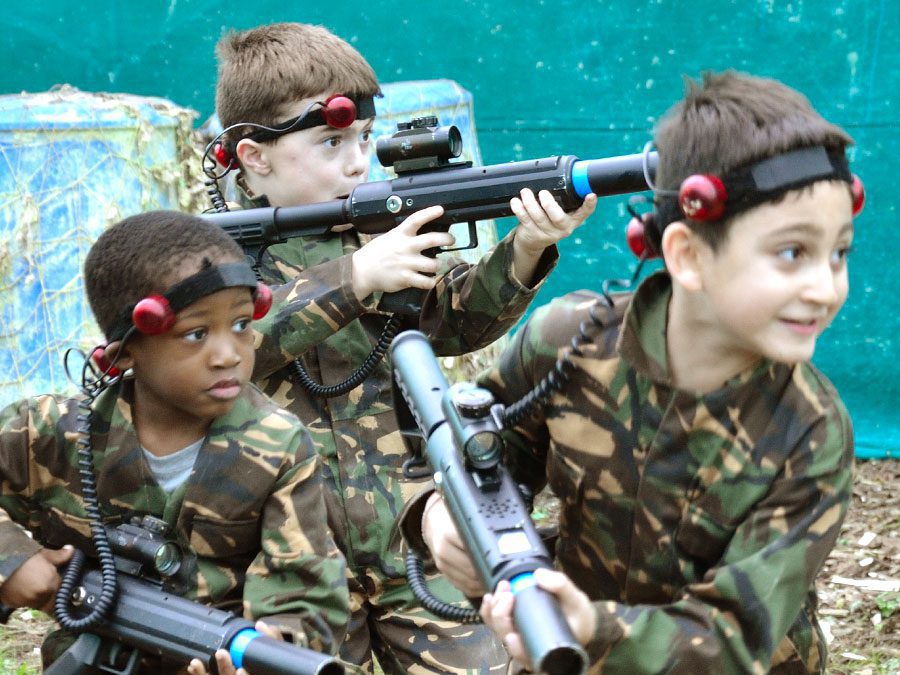 How does laser tag work?
Our laser tag games are run exactly the same as our paintballing scenarios but adapted for a safe and bullet free experience without the bruises for the younger children. No need for bullets or masks. In actual fact the guns look far more real, MP5 sub machine guns that just emit a simple infra red light and a signal tracker.
Each gun has a high tech infra red tracker that sends out information whenever the laser is fired. This allocates hits to the player every time the laser hits your opponents targets.
This is a fantastic and safe activity that we are able to run for children as young as 5yrs and adults. So mums and dads can come and join in!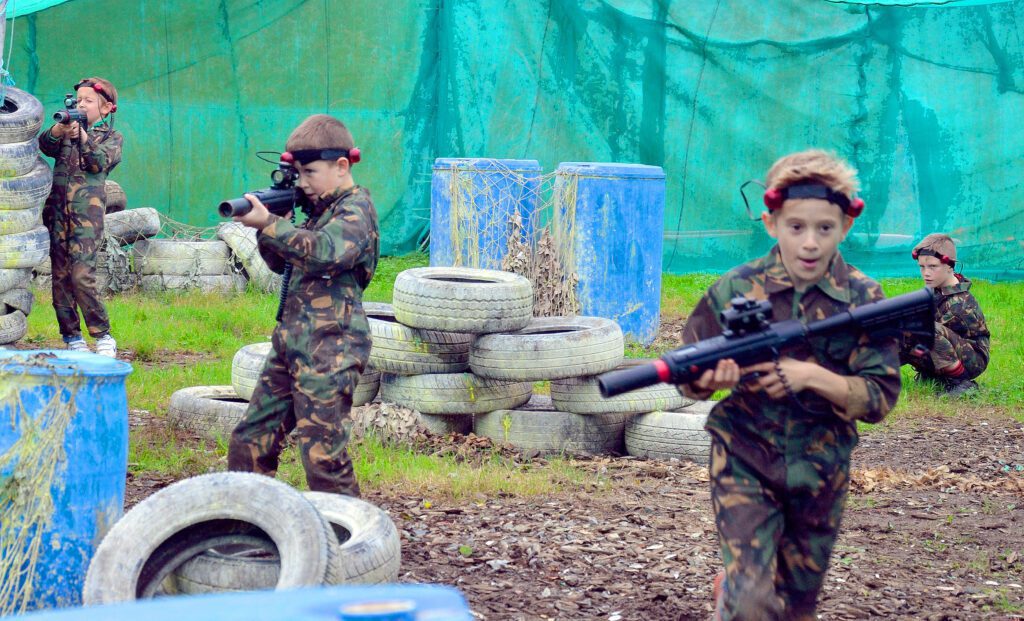 Children's Laser Tag Parties
Perfect for children's parties our laser tag is a big a hit with the younger children. Its safe, fun, bullet free and no mess.
We issue all players with camouflage overalls and MP5 laser gun and let them run wild within our dedicated arena, all under the supervision of your instructors. Our staff will run multiple games and tasks as well as giving the little ones lots of breaks for refreshments.
While mum's and dad's are welcome to join in, our covered spectator area offers a great place to hang out and setup refreshments perhaps on our pic-nic benches. This is a great place to sing happy birthday to the birthday boy or girl and cut the cake.
Why not invite your friends using the official Adventures Party Invitation. Click here to download.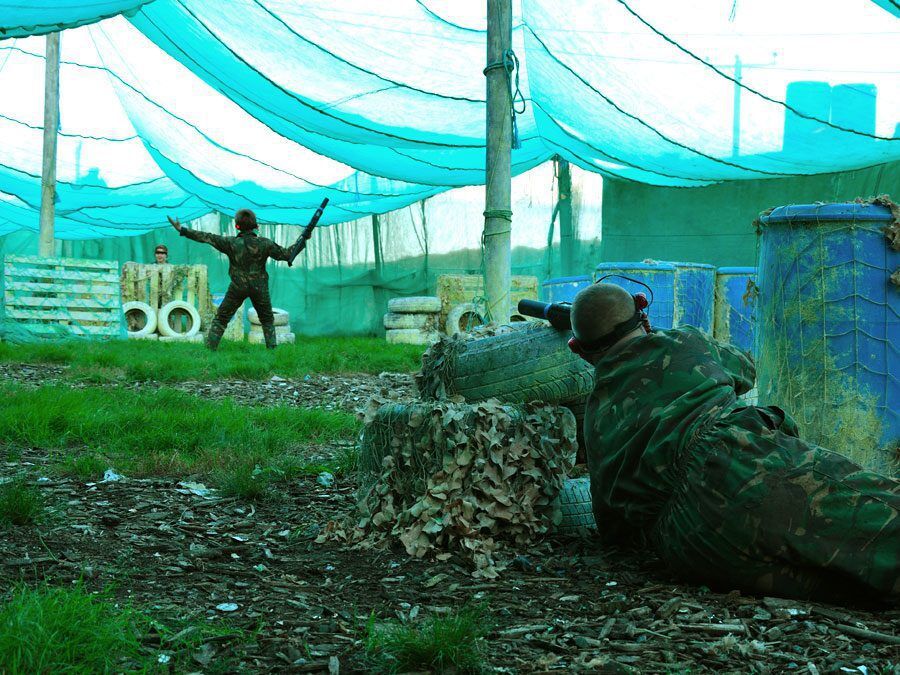 Who Is Laser Tag Suitable For?
Laser tag is definitely one of the most popular with our school activity days as well as an awesome activity for kids birthday parties. Suited for all ages from 5yrs+ to adults, mums and dads that want to join in for some family fun.
In addition our games also suits adult groups who are looking for a safe, fun and exhilarating activity day and don't fancy the thought of getting shot and bruised with a paintball. This offers a great alternative.
How muddy will the kids get?
80

%
Fitness levels required
10

%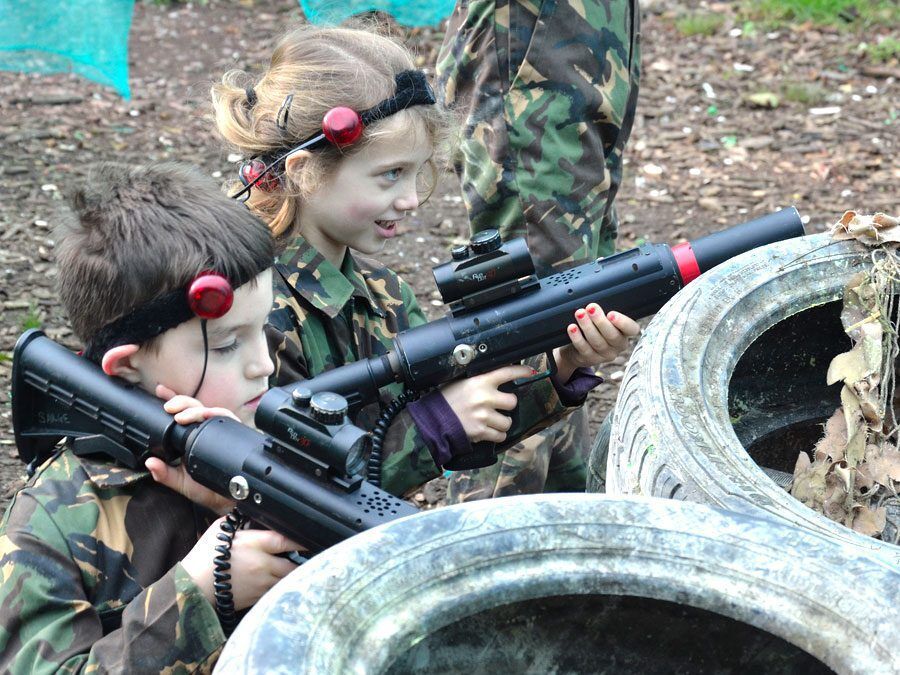 We had our boys laser tag party at Adventure Wales and it was absolutely awesome. My boy hasn't stopped talking about it and I'm pretty sure all his friends really enjoyed too. Rhys was fantastic with all the kids and organised various games to keep the lively hyper littleuns entertained. It was very well organised and already my boy has asked for his party to be there again next year. I cant recommend adventure Wales enough. Absolutely awesome!

Just a quick note to say a big thank you for Charlie's laser shooting party on Saturday, he thoroughly enjoyed. One of the boys even said it was the best party he had ever been to in his life
Perfect for kids parties
Action-packed party games, ideal for children's birthday parties
MP5 laser submachine guns
Futuristic & fun, just like paint-balling but without the mess.
Suitable for 5 years +
Our Laser Tag is perfect for birthday parties for all ages from 5+
Purpose built undercover arena
Undercover outdoor laser tag party in a safe environment