Raft Building Challenge Day
In teams, you will be challenged to build and sail a raft using your pioneering skills. Whether you make use of all the barrels, wood and rope on offer is up to you! Our instructors are always on hand to help offer some handy hints, tips and advice as well as instruction. Once built, your team will then take to the water and achieve your overall mission: Race around the lake without sinking! Can your team win?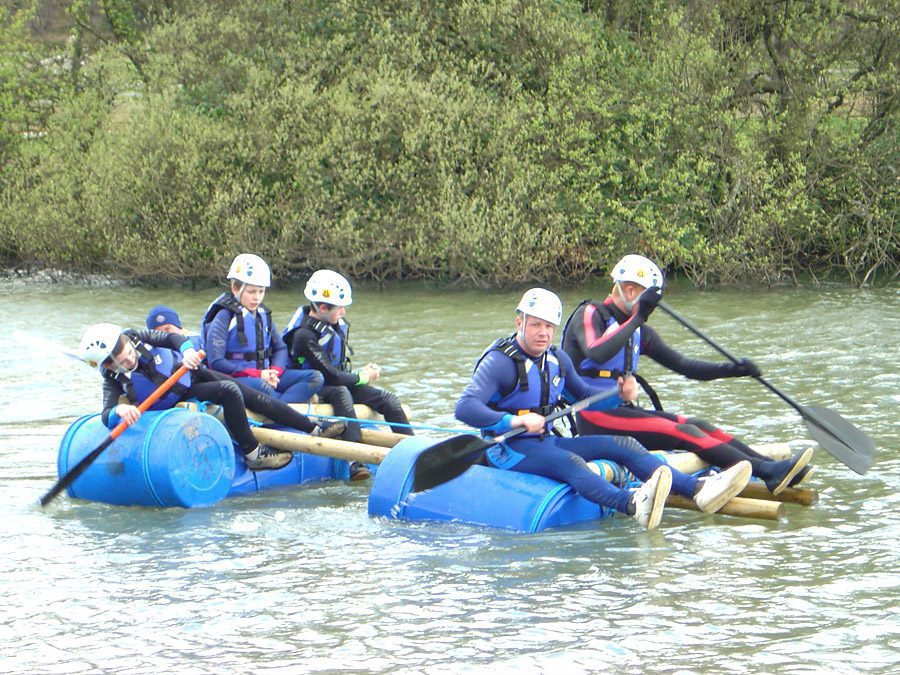 Raft Building for Team Events
Our raft building days are perfect for team building development, whether you are a youth or school group or a corporate group looking for a staff team building day.
The emphasis of our day is on planning, working and communicating together as a team but of course all within a fun and challenging environment.
This team building exercise usually involves a mixture of barrels, planks/wooden poles, various ropes (and maybe canvass), you'll then need to build a raft that and try to beat your competitor team.
Set in a a perfect location, we are situated on one of Wales most picturesque lakes at our nearby Margam Country Park.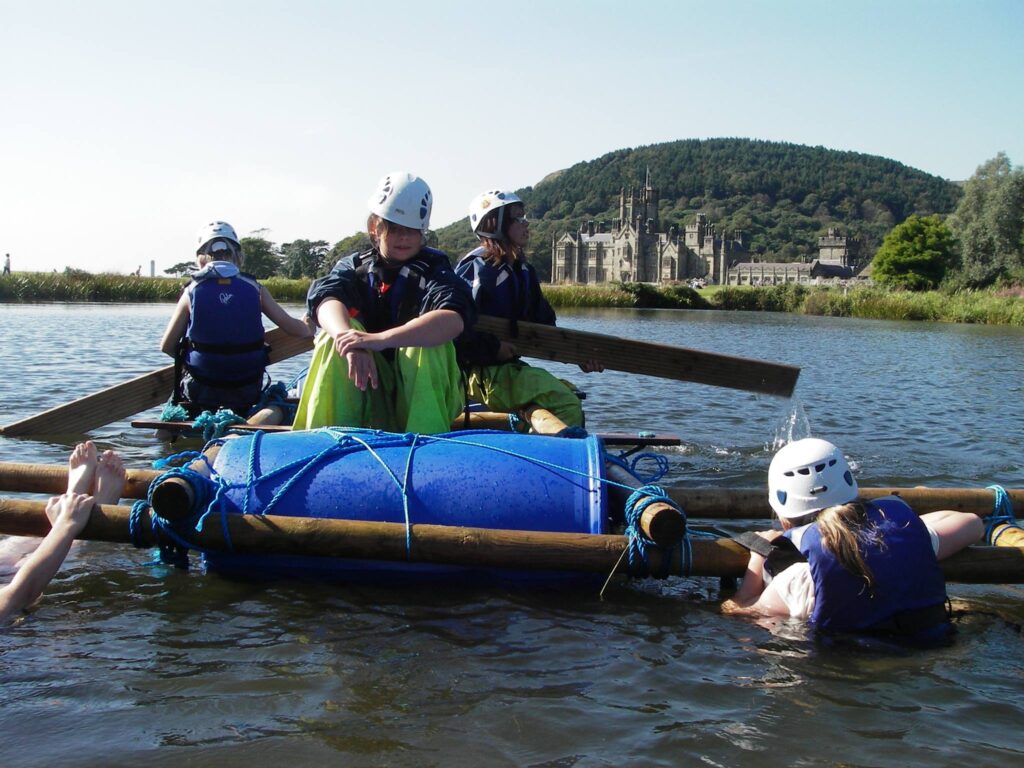 What do I need to bring for my Raft Building Team Building Day?
We provide all equipment for the day including materials and paddles for your raft building session. We also provide wetsuits, bouyancy aids and helmets for your safety on the water.
You'll most certainly get wet on this challenge! …actually, you will definitely get wet! So all we ask you to bring is a pair of shoes or trainers to wear in the water and swim wear. Likewise, don't forget to make sure you have a towel and some dry clothes for your journey home.
Bring along a packed lunch or the country park offers a great cafe facilities serving hot and cold food.
And remember to bring along plenty of commitment and bags of fun!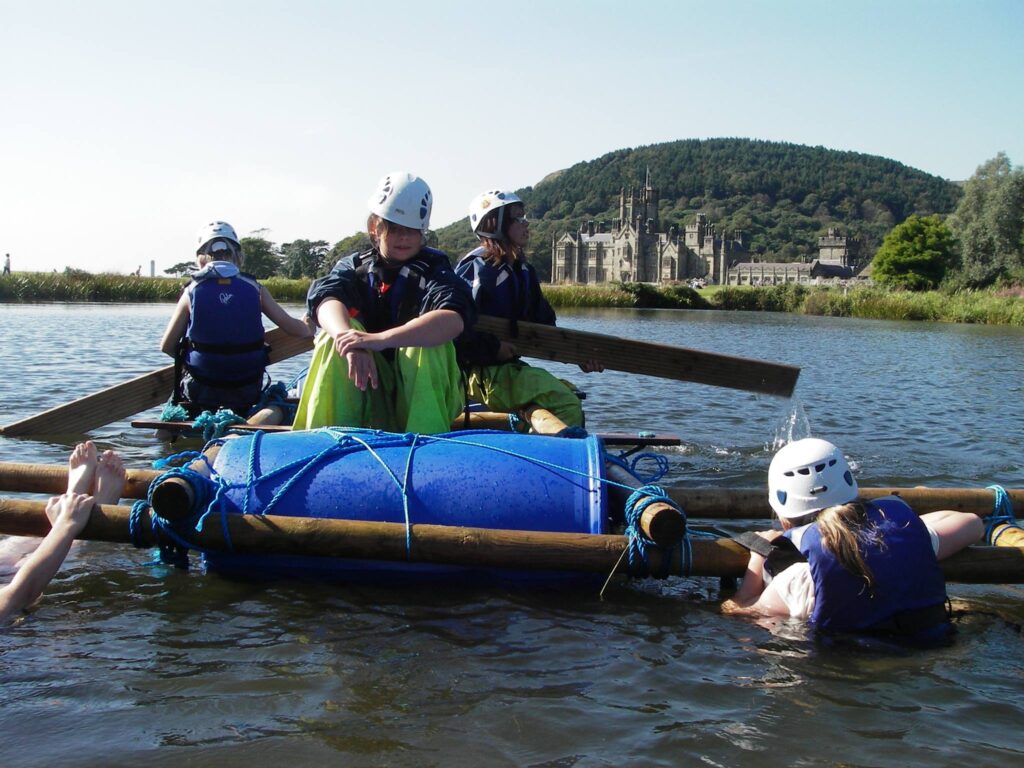 What Does A Raft Build Session Involve
Your team will be given a simple task; to design a raft, construct it then check that it floats.
Typically we provide you with barrels, wooden poles and some rope.
Your team will then attempt to paddle it around our mini island and return to the pontoon or perhaps race against your colleagues or other teams. Sounds simple eh???
We'll show you some simple knots and help you out with some easy design ideas while providing your group a great opportunity for developing their team work, communication and decision making skills in a fun but challenging setting.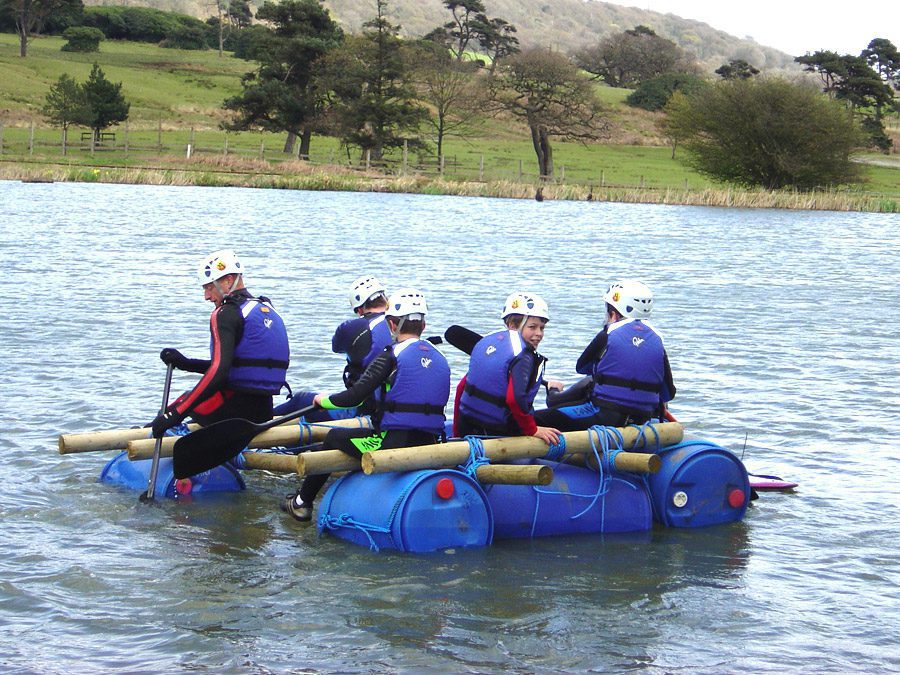 Who Is the Raft Building Challenge Suitable For?
How wet will you get?
100

%
Fitness levels required
60

%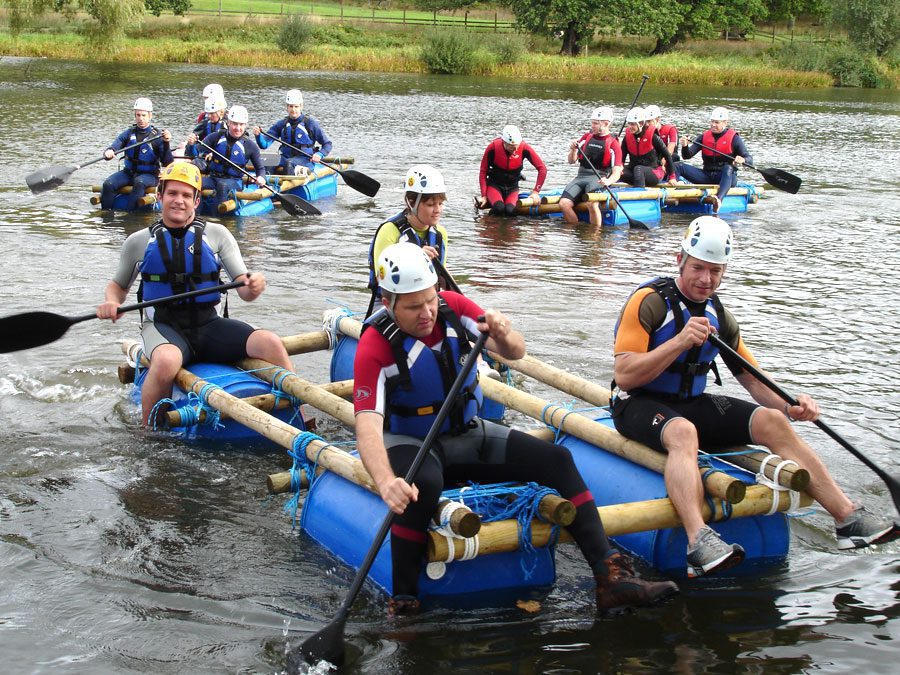 Thank you Adventures Wales for an amazing day. Our team had a fantastic experience on our raft building and kayaking team build day.
Great team building activity
Popular with schools, groups and team building programmes. Develop your teams communication, problem solving and team skills within a fun and challenging environment.
Fun for children and adults
Our Raft Building sessions are one of our most popular with School and Youth groups. A great activity to development young peoples personal and team skills.
Beautiful Location
Our raft build and kayak days are set in the picturesque Margam Country Park, with the lake in front of the country house.
Multi Activity Day
Why not add on a Kayak session or our Orienteering challenge to your raft build to create a full fun packed activity day.