White Water Rafting Wales
Come with us on a White Water Rafting Adventure
How do you fancy climbing into an inflatable white water raft and heading off through powerful, fast flowing rapids. This will include drops, boilers, weirs, stoppers and eddies? This is no ordinary white water rafting adventure activity, here on the edge of Wales capital city Cardiff.
If you've never experienced the sheer thrill of white water rafting in Wales, now's your chance! Great for schools and corporate team building. At Adventures Wales we are a stones throw away from Cardiff city centre. This makes our white water rafting experience a very accessible day particularly for our stag & hen weekends in Cardiff.
The best White Water Rafting in South Wales.
We have some great rivers to choose from, including the River Usk, Rhondda & Wye. These are not dependant on Dam releases as with other welsh venues, which makes us one of the only year round rafting centres in Wales.
White Water Rafting Wales Experience Day
We offer a full day rafting, not the usual 2hr sessions that you'll see advertised elsewhere. As part of your experience, you'll receive a full safety briefing and all the training you'll need. In addition we supply all the equipment, wetsuits, buoyancy aids, helmets and splash jackets. This is the place if you want serious, good fun rafting here in Wales.
White Water Rafting prices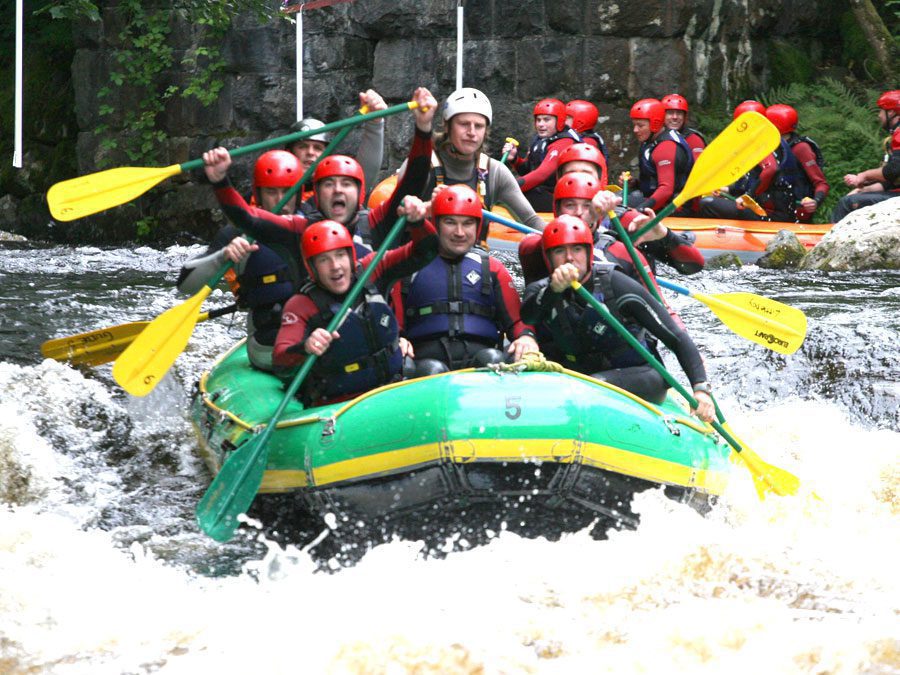 What Happens on our White Water Rafting sessions?
Rafts and participants are transferred to the top of the course each time by minibus. At the end of each rafting descent you will be transferred back to the top in the minibus, to begin your descent again and again.
Please note that in the event of adverse river conditions, rafting may have to be changed to an alternative activity. This alternative will normally be our Gorge Walking at the same cost excluding transport.
The best rafting experience in Wales
Negotiate raging rapids and river boilers.
All under the supervision of your experienced rafting guide.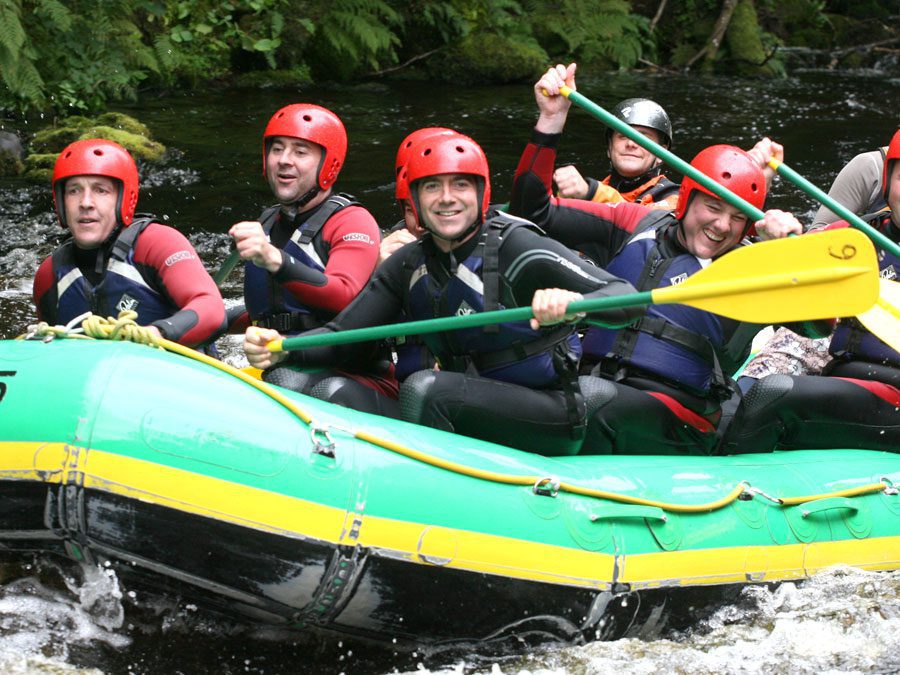 A Great Experience Day for Groups
This is such a great experience and our rafting adventures are definitely popular activities for Stag Weekends staying in Cardiff or Swansea. Our centre at Adventures Wales being only 20mins from the centre of Cardiff. This makes it an ideal get away for a white water rafting experience.
Our rafting is an unconventional activity to do on a stag weekend or as a group activity. This unique day offers a great bonding experience amongst your group and a fabulous talking point for the bar later.
A white water rafting in wales experience will definitely be one that will be talked about for a long while after with friends and wedding guests.
Come with us for the most talked about adventure day. Why not call us now for details of our experience days for your coming Stag Weekend in Cardiff.
Call us on 01656 782300 or why not simply click on our quick enquiry form and we'll get back to you asap.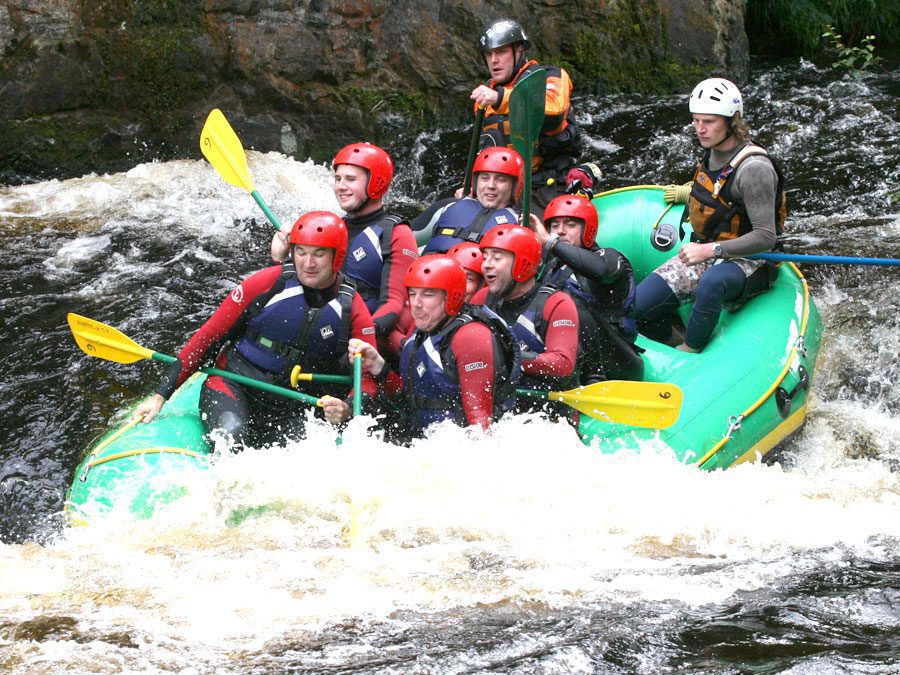 Who Is White Water Rafting Suitable For?
White water rafting in Wales is an exciting but also a physically demanding activity. Its definitely one of our popular activities days. In addition it's deal for groups and individuals and is very popular with youth groups looking for a great experience day here in Wales. We operate our experience for children from 9 years and above.
Our awesome rafting experiences are becoming popular as a company team building activity. These sessions offer a great opportunity for group bonding and personal challenge.
During your experience day, we'll teach you all the techniques that are needed to negotiate your river journey. This includes moving through boilers, stoppers, plunge pools and standing waves. Without doubt our rafting activities are very popular stag activities for all locations around Cardiff and Swansea.
How wet will you get?
100

%
Fitness levels required
40

%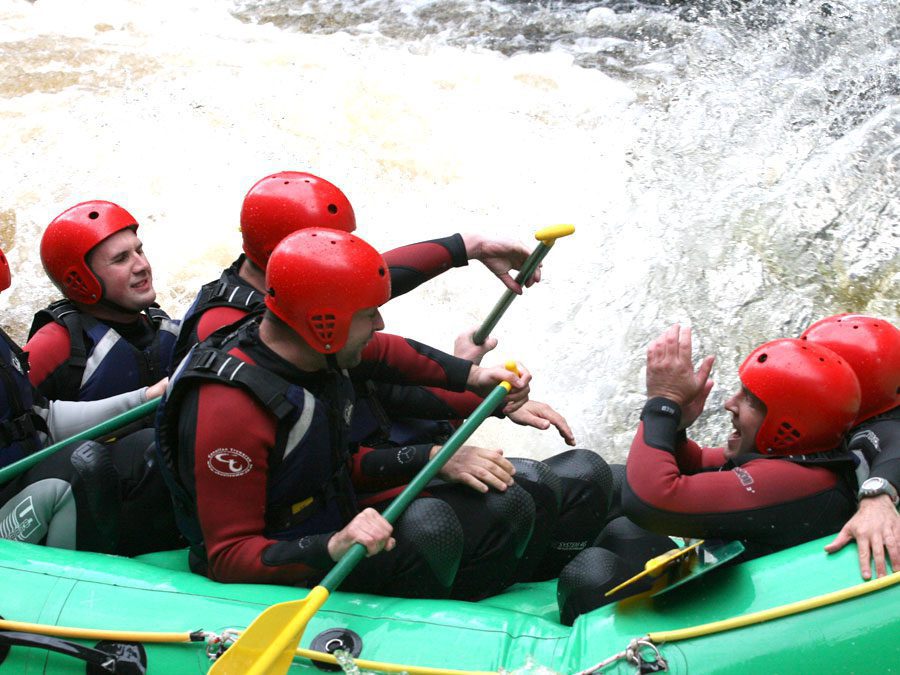 White water rafting was definitely the perfect choice for our Cardiff stag trip! Thank you Adventures Wales and staff for a great day
White Water Rafting in Wales
Explore the raging river rapids of South Wales.  A great activity for visitors to Wales being only a short drive from both the city centre of Cardiff and Swansea.
Experienced Instructors
All our instructors are fully experienced and qualified in Swift Water Rescue and rafting techniques. Adventures Wales centre is also an approved AALA licensed activity centre, ensuring your safety on our adventure days.
Mid Week Rates
We offer a great mid week white water rafting experience days from only £45pp. Call us now to book your rafting experience day.
Available All Year Round
We offer our white water rafting wales experience days throughout the year. However Autumn & Winter offer real exciting conditions with great levels of water flow in the rivers. We use full thick 5mm winter wetsuits, keeping you toasty throughout the colder months of the year.