Paintballing and Climbing Activity Trips
A unique paintballing experience in Porthcawl, only 20 minutes from both Cardiff or Swansea in an all weather speedball arena.
Paintballing Porthcawl
We offer extensive scope for numerous and widely varied paint-balling scenarios within our paintball arena, or otherwise known as speedball . Last Stand, hostage taking scenarios and tuition in marksmanship skills. These are just some of the paint-balling games awaiting you at our brand new paintball facility in Porthcawl near Bridgend. Our paint-balling facility is close to Swansea and Cardiff, Jnc 37 off the M4.
Speedball paint-balling is a great activity for individuals looking to join a game as well as groups such as youth groups and for activities within our Cardiff stag weekend packages.
What's included in our Paintball packages?
Multiple missions & games.
All latest equipment you will need.
Semi automatic marker guns.
Combat overalls.
Face mask & goggles.
Experienced paintballing marshals.
First aid trained staff.
Individual paintballing adventure scenarios.
High Ropes Climbing
uspended 40ft above the ground on our High Rope Climbing Course. Our high ropes climbing course is an exciting series of challenges that test skills, agility and courage for all ages & abilities. Conquer your fear of heights under the supervision of our fully qualified instructors. Suitable for 7yrs.
The High Ropes Climbing course offers a great introduction to climbing.
Participants are given a high level of support and coaching, but can choose the level of challenge they wish to undertake.
Jacob's Ladder: A ladder with missing rungs and big distances apart! Also can be a team challenge! Can all the members of your team reach the top?
Climbing Tower: Two sides of the 50ft tower have been specially designed to accommodate a wide range of climbing routes from steep sides to a more gentle slope for starting off.
Abseiling Tower: This side of the tower provides a great abseiling wall, once over the edge, you'll be wanting to go backup to the top for more.
High Beam: Can you pull and stand up on top of the beam ? If only it was a short distance off the ground, but it's not, it's 40ft high!
Beam & Rope Walks: This will test your head for heights as you walk along 40ft above the ground. Will you need to use the hand ropes, you'll need balance.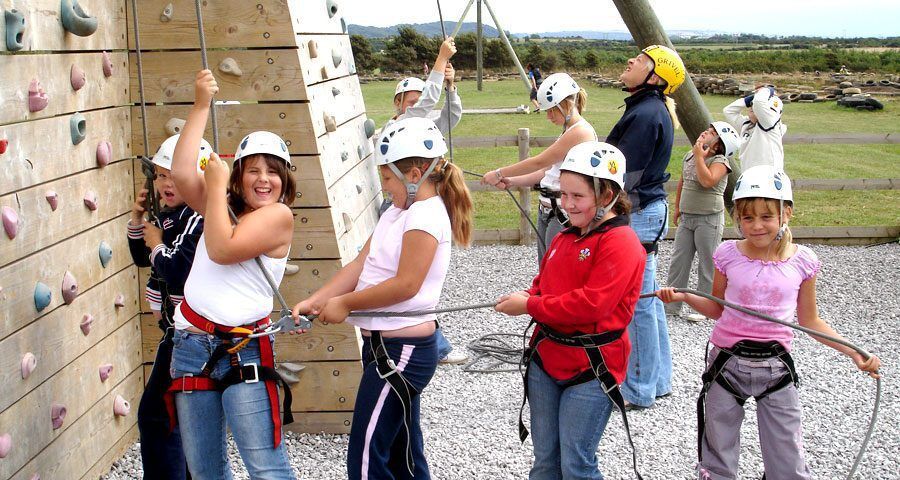 Suggested Activity Trip Itinerary
10am – Arrival at centre. Welcome by Adventures staff. Briefing on days activities.
10.20am – Ice breaker / problem solving task
10.30am – Split into teams / Allocation of balls
Safety Talk
Paint-balling Instruction
11am – Paint-balling games
1pm –  Lunch
1:30pm – High Ropes Challenge Course: Climbing Wall, High Ropes, Zip Slide
3:30pm – Debrief and depart for home/school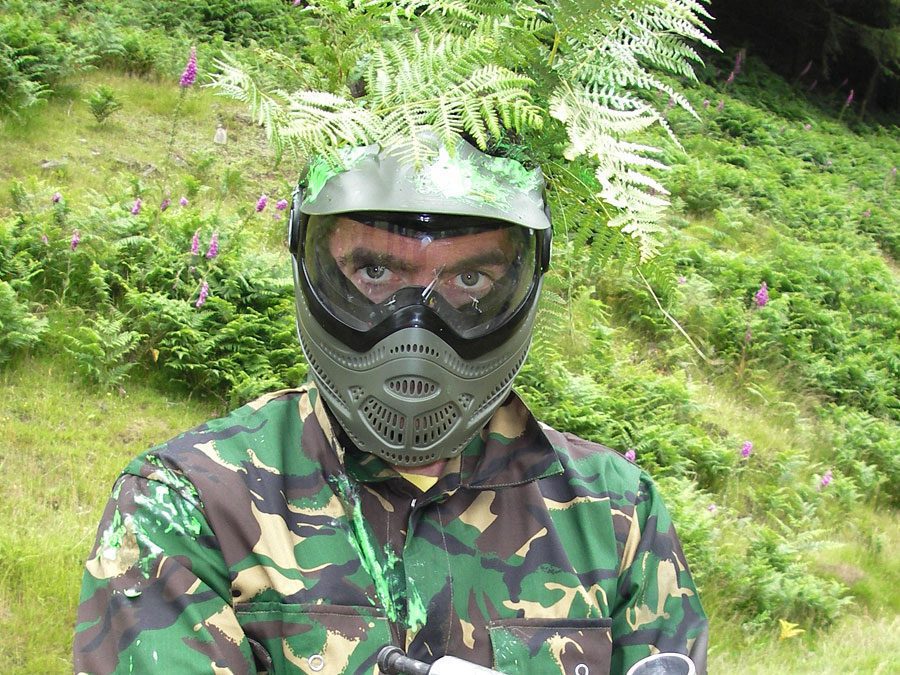 Paintballing For Groups and Parties?
Adventures Wales paintballing in Porthcawl is a great venue for groups, parties and of course stag weekends. It offers a great activity in a fun and challenging environment to make sure everyone gets to know each other and of course something to talk about for the future. Paintballing is certainly one of the most popular group and stag activity for the simple reason, it's fun, exciting and it makes a special day memorable.
For your groups we run games of all sizes and for children over 12yrs as well as adults. We will always offer private games for groups of 10+ players.
What Happens on our High Ropes Climbing Course activity?
Our aerial adventure is a high ropes tower and course offering an amazing high exposure experience. The course is made up of lots of different elements including high walk beams, cargo nets, climbing towers and of course the final zip slide.
After meeting your expert instructors, they will help you into your harness and helmets and take you through a full safety briefing, showing you all the elements of the course. You will then be ready to take on the different sections of the high ropes course. You'll learn how to belay your friends while each climbs the various sections of the course under the supervision and guidance of your climbing instructor. You'll learn plenty of new skills such as climbing skills, knots, belaying and how to move swiftly like a ninja across our high level ropes course.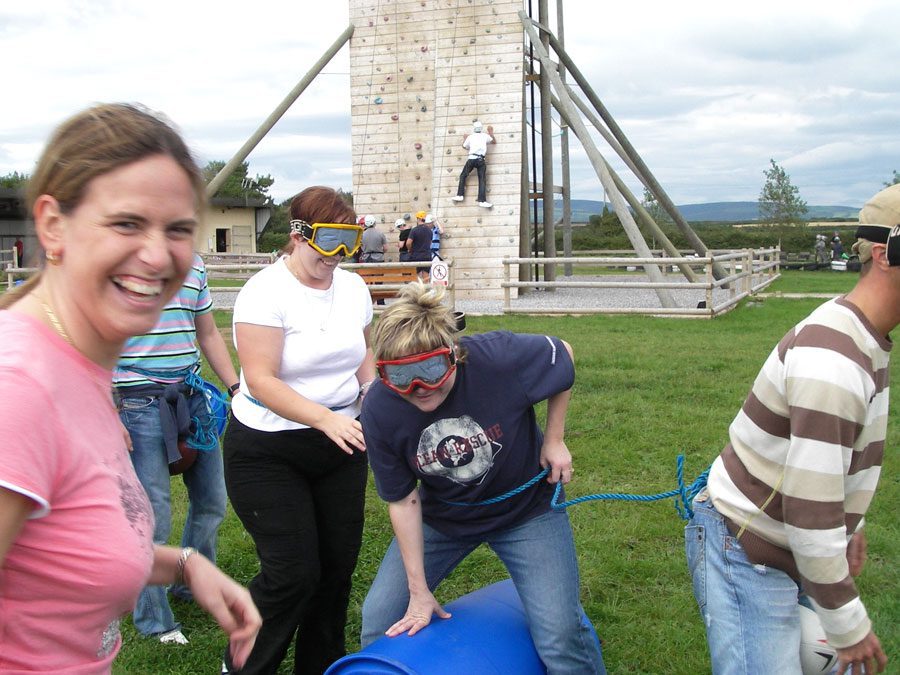 Junior Paintball Parties
Are you looking for a unique birthday party experience for the kids?
Our junior paintball is ideal for parties, youth groups and school trips or just family fun days.
With 200 paintballs we will manage the games and ammunition so that no one needs to buy any more paintballs ensuring everyone has a great experience with no extra expense.
For birthday parties, we offer the use of our covered area with pic-nic benches if your party wishes to bring in their own food and birthday cake etc.
All our paintballing is suitable for children 12years and above. Below that age we recommend our Laser Tag games which are played in the same arena facility.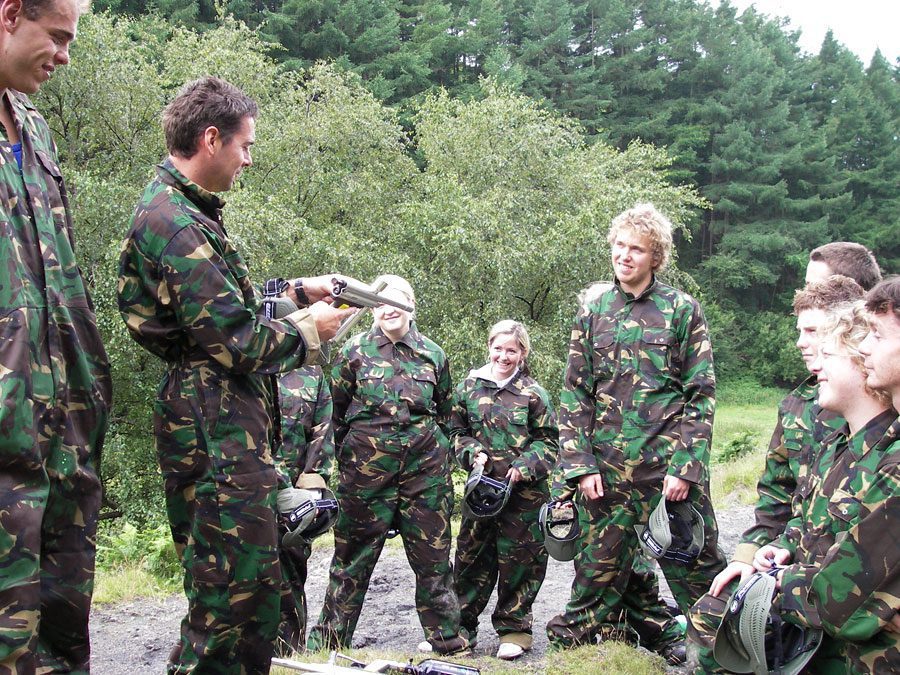 Looking for a fun and challenging family activity day?
Can your family or friends take on the challenge of our multi activity experience?
As well as completing all the challenging elements on our ropes course, why not make a day of it and add on our archery skills session for a chilled afternoon or for those adrenaline junkies, why not try out our muddy assault course?
We have several challenges awaiting you so it's time to find out, do you have what it takes?
Who Is Our High Ropes Course Suitable For?
We offer the high ropes course for groups and individuals from 7yrs. As well as schools, our high ropes course is very popular with hen weekends and groups. It is a perfect activity also for families looking for a fun day out with a little challenge for everyone.
Spectators, mums and dads are all also welcome to come and watch from our viewing area.
Unfortunately our course is not suitable for anyone pregnant or those suffering from health issues including serious neck and back injuries.
Fitness levels required
50

%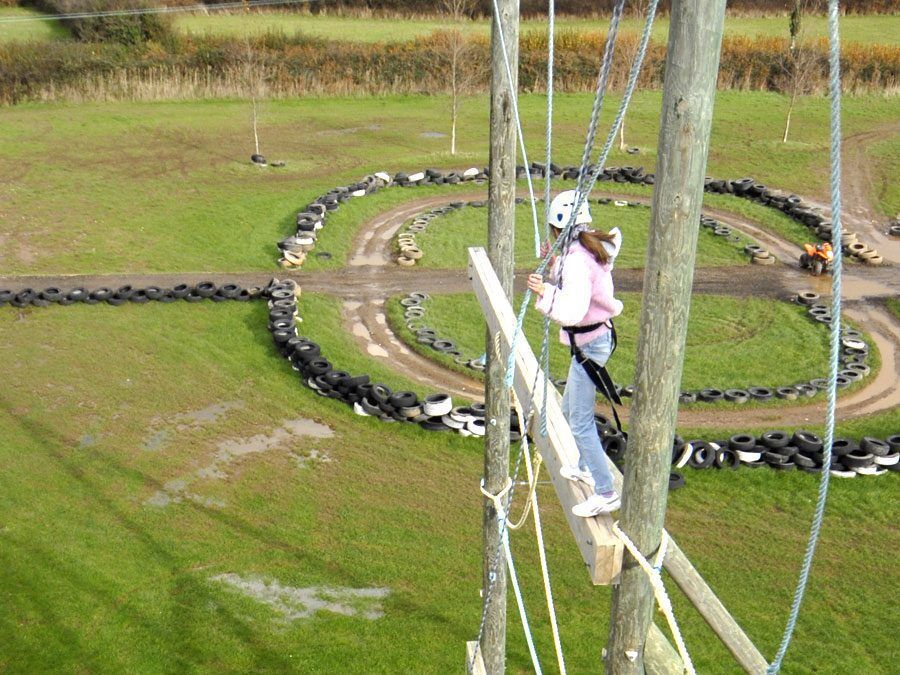 To everyone at Adventures Wales. Thanks you once more for an excellent NCS residential experience. All teams enjoyed themselves. You are a brilliant, professional, fun, capable and dedicated bunch. We appreciate it and will definitely see you again next year!

The zip slide was definitely a favourite with the children during our amazing activity week with Adventures Wales.
Fully instructional sessions
AALA Licensed Activity Centre
Safety Equipment provided