Stand Up Paddle (SUP) at Porthcawl
SUP or Stand Up Paddling here in Porthcawl is the new exciting sport and considered the worlds fastest growing water-sport. From its Polynesian roots in the Hawaiian Islands, to cruising lakes, canals and beaches of the UK.  Stand up Paddle Boarding is here to stay. An alternative to surfing, it is now becoming extremely popular in the surf as well as on flat water lakes and rivers.
Stand Up Paddle Boarding with here in Porthcawl (also known as SUP) is easy to learn and open to everyone. Just simply paddling around on the board is great fun. With SUP you can travel good distances with relative ease, a great way to discover our amazing and beautiful coastline.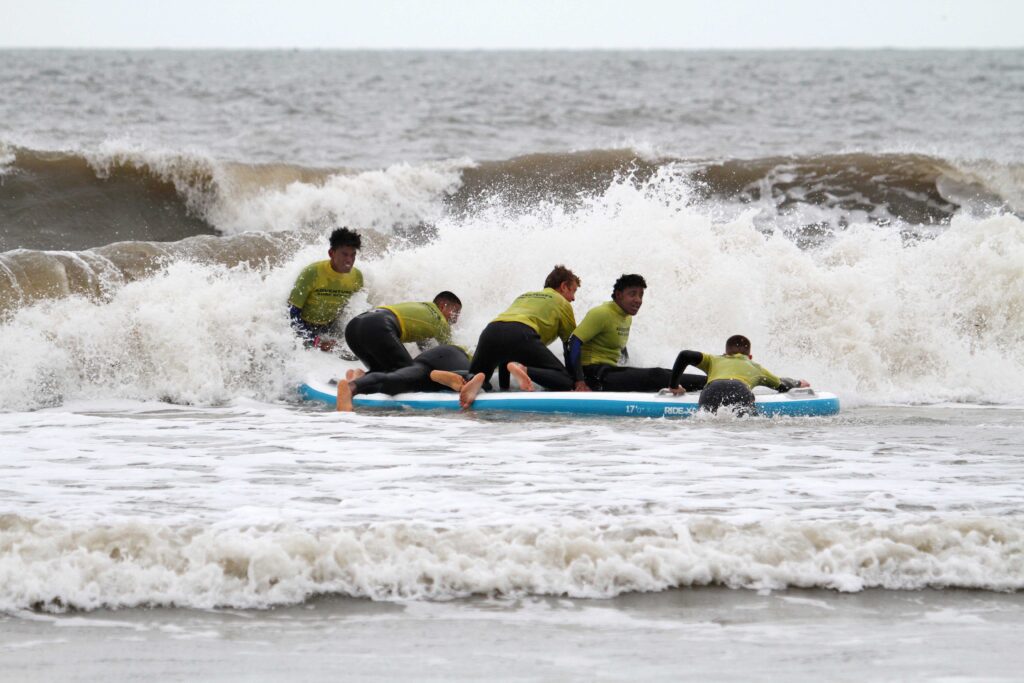 Where Do We Run Our SUP Sessions?
Our SUP or Stand Up Paddle Boarding sessions usually takes place on the blue flag beach of Rest Bay in Porthcawl, close to our activity centre. However the local area of Porthcawl also offers us plenty of other beaches such as Newton or at the more sheltered Coney Beach allowing us plenty of opportunity to find the best SUP conditions for your session.
Come along, meet new friends and catch some waves!
During the Summer months we run Porthcawl SUP sessions for any individuals who want to learn but don't meet required numbers for a group lessons.  Our SUP sessions are taught by passionate and qualified local instructors, taking place at one of our beautiful beaches such at Rest Bay in Porthcawl. Please contact us for more information on these.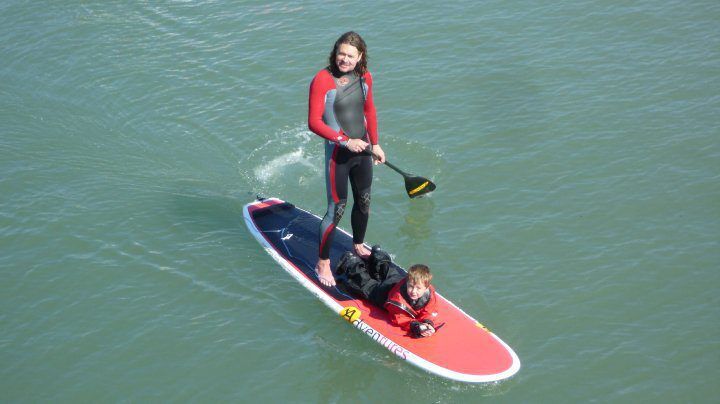 Giant XXL SUP for your Group or Party?
Big SUP's and big fun for families and groups. Its our new and exciting activity for 2020/21. Jump on our giant XXL inflatable SUP's, an 18ft long inflatable paddle board that's specifically designed for groups.
Its the most fun you'll have with your buddies as you paddle out through the surf and catch a wave in together. Our rafts accommodate 4-8 persons per raft.
Try out now our Giant SUP Porthcawl experience day.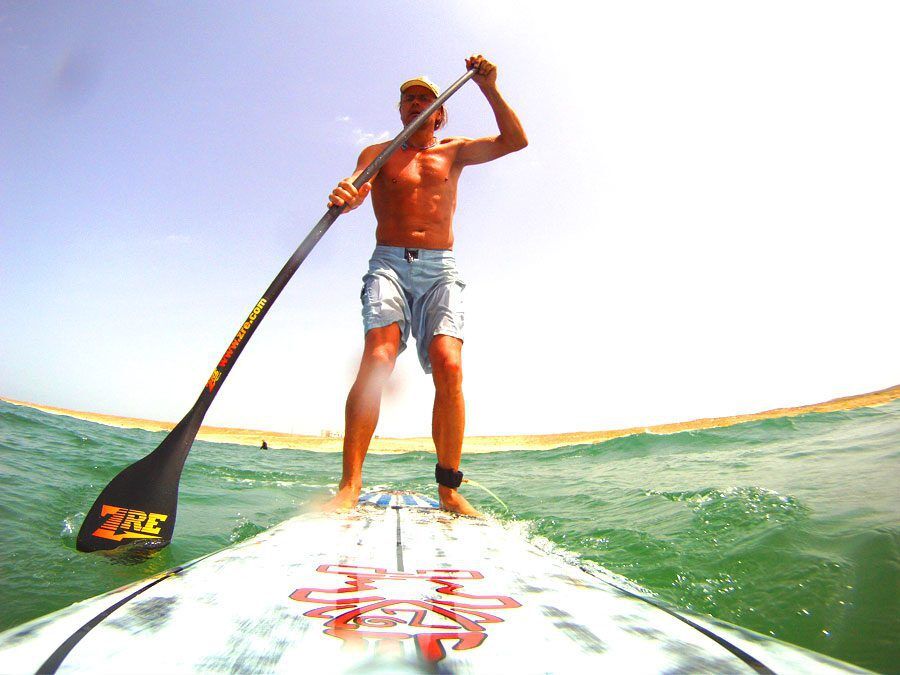 Stand Up Paddle Boarding for Schools and Groups
We offer Porthcawl SUP sessions and our Giant XXL inflatable SUP's either as a stand alone session or as part of a multi day beach activity in Porthcawl for groups and schools.
Its a great activity that challenges individuals balance and co-ordination while also offering a great team building opportunity when combined with our Giant XXL inflatable SUP' session.
Our qualified and experienced surf instructors will give you their dedicated attention and hopefully start you off on a new lifelong passion.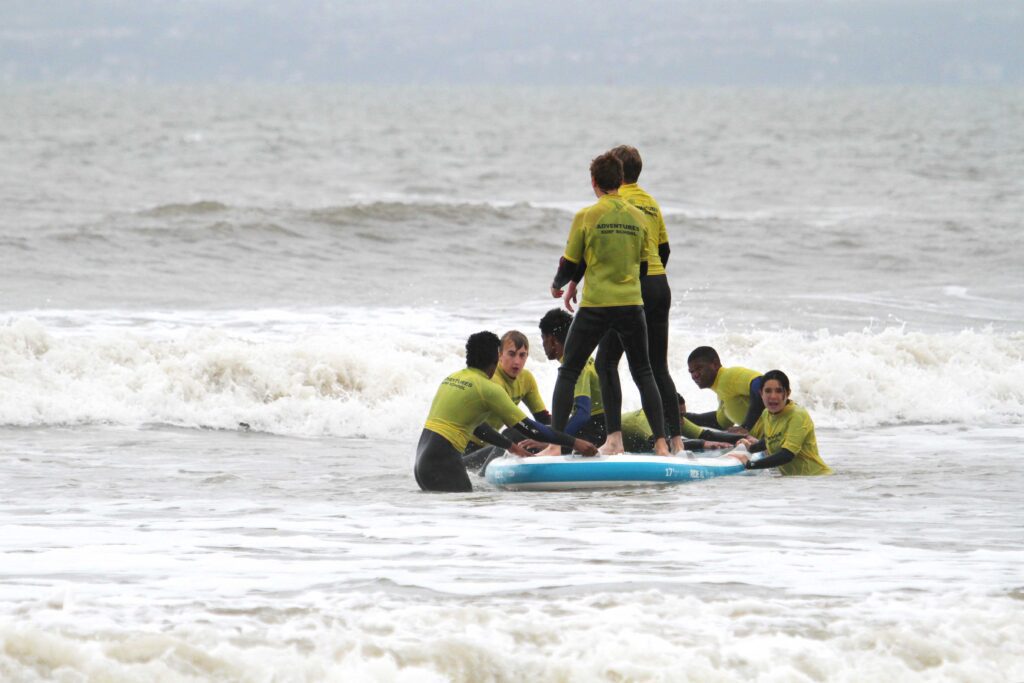 Giant XXL SUP Porthcawl Experience Day
In addition to our standard SUP boards, Adventures Wales here in Porthcawl, is one of the few providers offering groups Giant XXL SUP sessions. This is our newest and exciting activity, while fast becoming our most popular group activity for schools and groups etc as well as adult groups looking to maximise a fun beach day. Our giant SUP's are an inflatable 18ft paddle board built for groups in and out of the surf.
Who Is a SUP Session in Porthcawl Suitable For?
How wet will you get?
100

%
Fitness levels required
30

%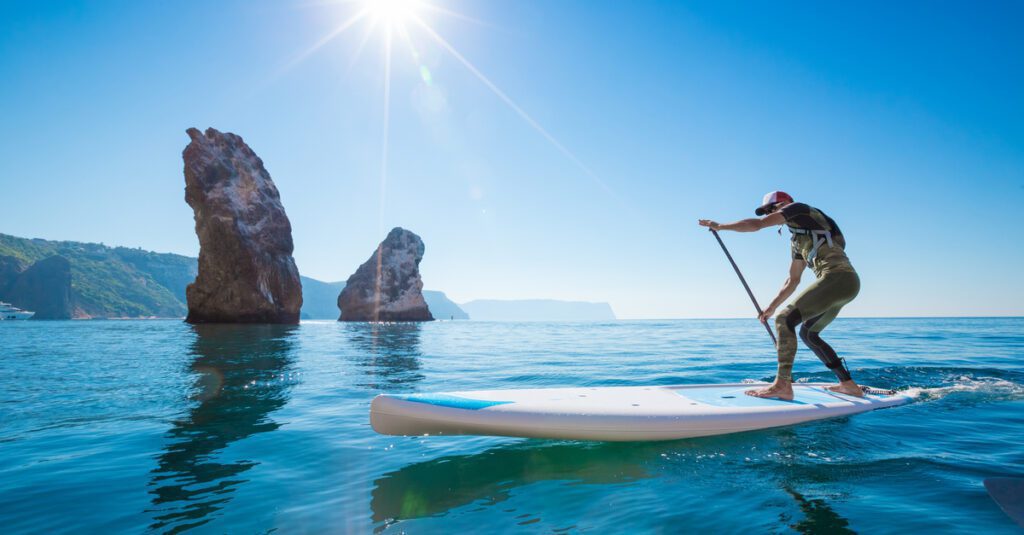 Excellent – Great Fun! Both Nigel and Aaron were excellent instructors for our full day of surfing and paddleboarding, friendly and keen to help us get the best out of the day.
Your Safety is Our Priority
You can rest assured in the knowledge that Adventures Wales surf school, Porthcawl is one of the few to also hold an AALA activities license. This is a HSE license for operating adventure activities for under 18yrs.
Experienced SUP Instructors
You'll be taught by our qualified and experienced professional beach lifeguards and surf instructors who will give you their dedicated attention and hopefully start you off on a new lifelong passion.
Giant XXL inflatable SUP's
We are one of the few centre's in Wales currently offering Giant XXL SUP sessions in Porthcawl. Fantastic fun for families and groups of 4-8 People per raft. Paddle out and catch a wave with friends or family
Multi Activity Beach Days
We offer both our SUP and Giant inflatable XXL SUP's as part of our full Porthcawl beach activity days. Why not add in Surfing for a super fun family beach day or the ultimate group activity day.